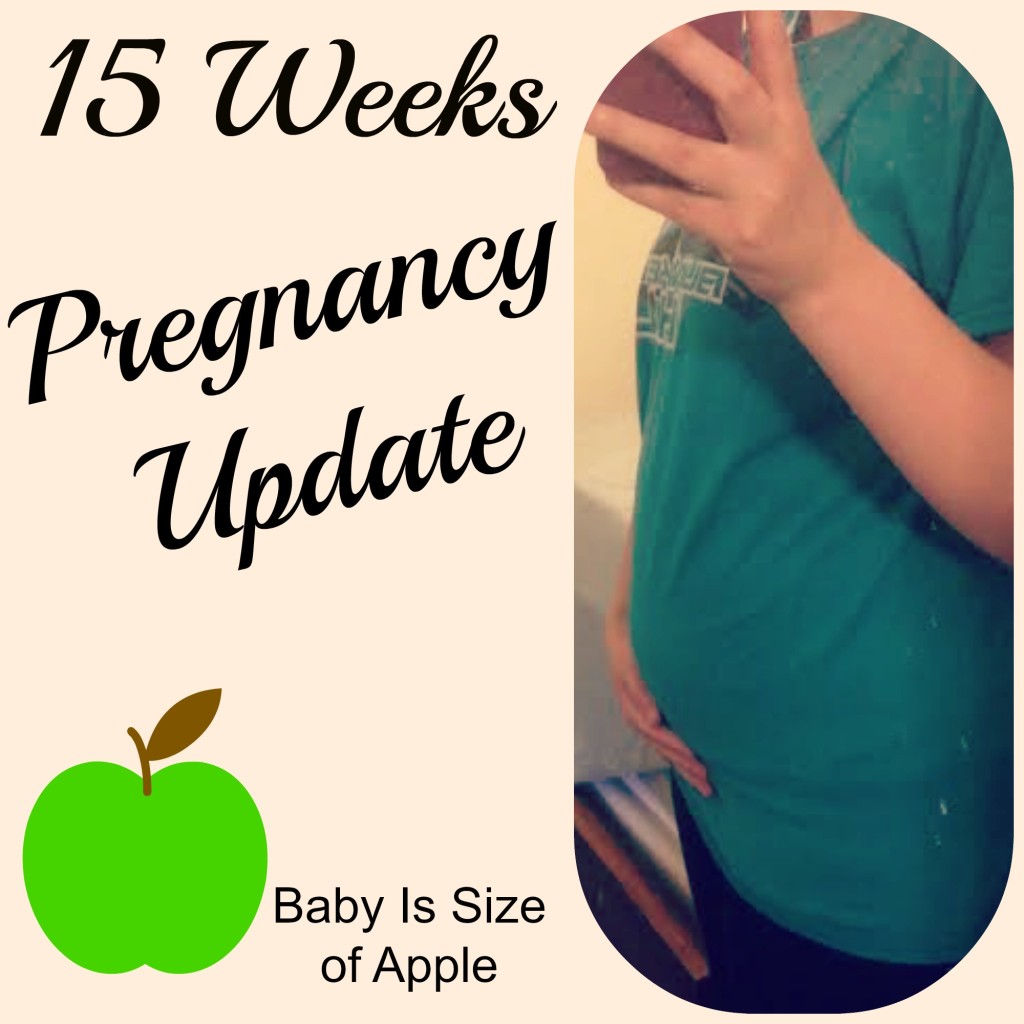 Wow I can't believe I am 15 weeks today! I am so excited that I am close to getting my first sonogram and finding out the sex. I should get to schedule my sonogram at my next appointment! I am so excited to hear if we are having a boy or a girl!
I did buy the Kindle version of Belly Laughs, 10th anniversary edition: The Naked Truth about Pregnancy and Childbirth
. Jenny McCarthy is the author and she talks about things that most people don't tell you about being pregnant in this book .I just started it, so far it is pretty good. She has some good humor in the book, doesn't go into deep details on things, but still so far a good read!
So let's get to my 15 week pregnancy update, so you can see what has been going on this week!
Size of Baby: Sweet little baby Apley is the size of an apple this week. They can sense light now, so if you shined a flashlight on your tummy the baby would move away from the light. The eyes are still fused shut, but neat they can sense light!
Body and Changes: My bump is getting a bit bigger, I am ready for it to fill out so people know I am pregnant! I have gained a little weight and had a bit of a rough week so I lost a couple of pounds. Luckily today I feel pretty good! My breast are still growing I think, it is just crazy!
Sleep: I have had some restless nights. I wake up with a really bad sour stomach and nausea and it keeps me up. Needless to say I pee a lot through the night. Last night I was shocked, I slept almost all night and woke up just once!
Emotions: I am a bit more leveled out. I have had some days where I felt kind of down. Feeling sick all the time makes it really hard, you just tired of being stuck inside and unable to get out and do stuff. I am trying to remind myself this should go away soon!
Morning Sickness: I feel like it came back pretty good this week. I was down and out most days, and pretty much stayed in my pj's all day. Today though I am feeling pretty good, thankfully! Hopefully this week will be better and it won't be so constant.
Cravings: Watermelon is a big one, I just am loving fresh fruits. I also have been wanting cucumbers here and there as well. Of course I can't go without craving protein especially in the mornings.
What I Miss: I think just feeling good. The constant nausea is rough.
What I Am Looking Forward To: So excited to find out what we are having! I think about it alot!
This post may contain an affiliate link. Please see my
Disclosure Page
for More Information.