Here is a really fun recipe that will be a crowd pleaser! You can use any color of Jello you want to fit the occasion. With it being Memorial Day Weekend and 4th of July on the horizon I thought red white and blue seemed very fitting! These little bites are great for parties, they are bite size and easy to grab and eat without a mess!
These Red White and Blue Bites, are really pretty quick and easy to whip up. The only part that takes time is the Jello setting up! So, lets get on to the recipe, shall we?!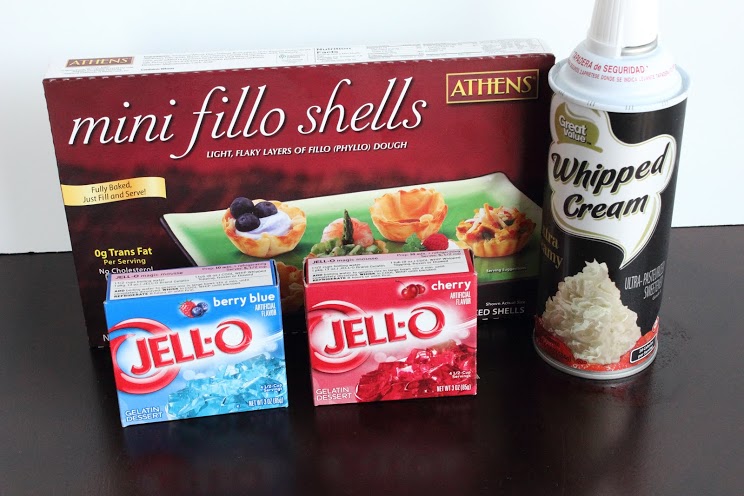 Athens Mini Fillo Dough Shells

JELL-O Gelatin Dessert, Berry Blue

Jell-O Gelatin Dessert, Cherry

Red White and Blue Bites Recipe
Ingredients:
1 Pkg. Mini Phyllo Shells
1 Can Whipped Cream
1 3 oz. Pkg. Red Gelatin
1 3 oz. Pkg. Blue Gelatin
1 1/3 Cups Boiling Water
Directions:
In separate bowls, combine 2/3 cup boiling water with each gelatin. Stir 2 minutes until completely dissolved.
Pour gelatins into 2 separate containers approximately 8 inches by 4 inches. You can use a rectanglular resealable container or a loaf pan. Be sure to lightly oil or spray to ease the unmolding process.
Refrigerate at least 1 hour.
Cut gelatins into ¼ inch cubes.
Put a small amount of Whipped Cream into the bottom of each Phyllo shell.
Arrange gelatin cubes around the edges of the shell. Top with another dab of Whipped Cream.
Serve immediately or refrigerate so the cream doesn't break down.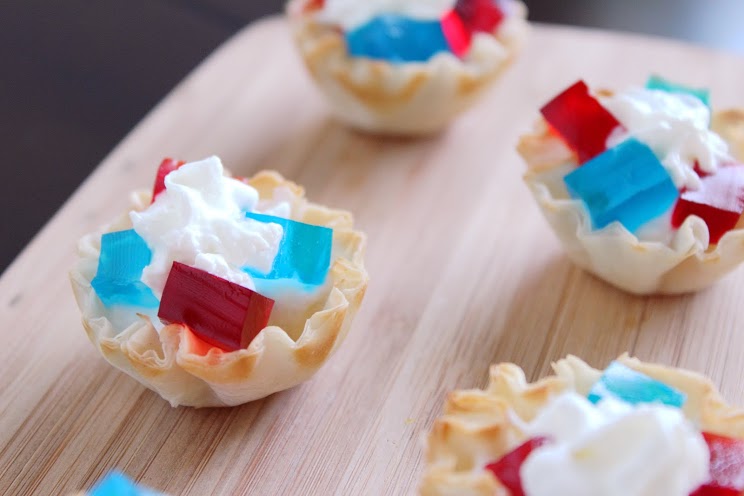 If you make this recipe, I would love to hear your thoughts on it! And remember you can use any color or flavor of Jello you want! So if you want an affordable and cute dessert, I recommend giving this a go! Thanks for stopping by!!
Make using the colors to support your favorite sports team! 
These would be fun to make for parties too! If you have a favorite sports team, you can make these and use the jello colors to support the team colors! I think that is a really fun idea, and of course they are addictive! It is a recipe that can be tweaked and changed to fit whatever your hearts desire!
I think we will make these for the 4th of July for sure this year, they are always a hit! Pretty affordable, little prep work, and mighty tasty! Three of my favorite things!
[amd-yrecipe-recipe:10]