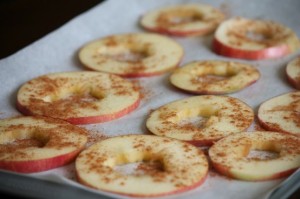 I found this recipe at Steals and Deals for Kids, and wanted to share this fun and easy recipe!!
What you will need:
Directions:
Remove apple core. I most likely did this wrong since half of the apple was missing when I removed it but you get the idea.
Thinly slice the entire apple.
Line a cookie sheet with parchment paper and place apple slices on it.
Sprinkle with cinnamon.
Bake at 275 degrees for two hours. At the end of hour one flip them over so they bake evenly.