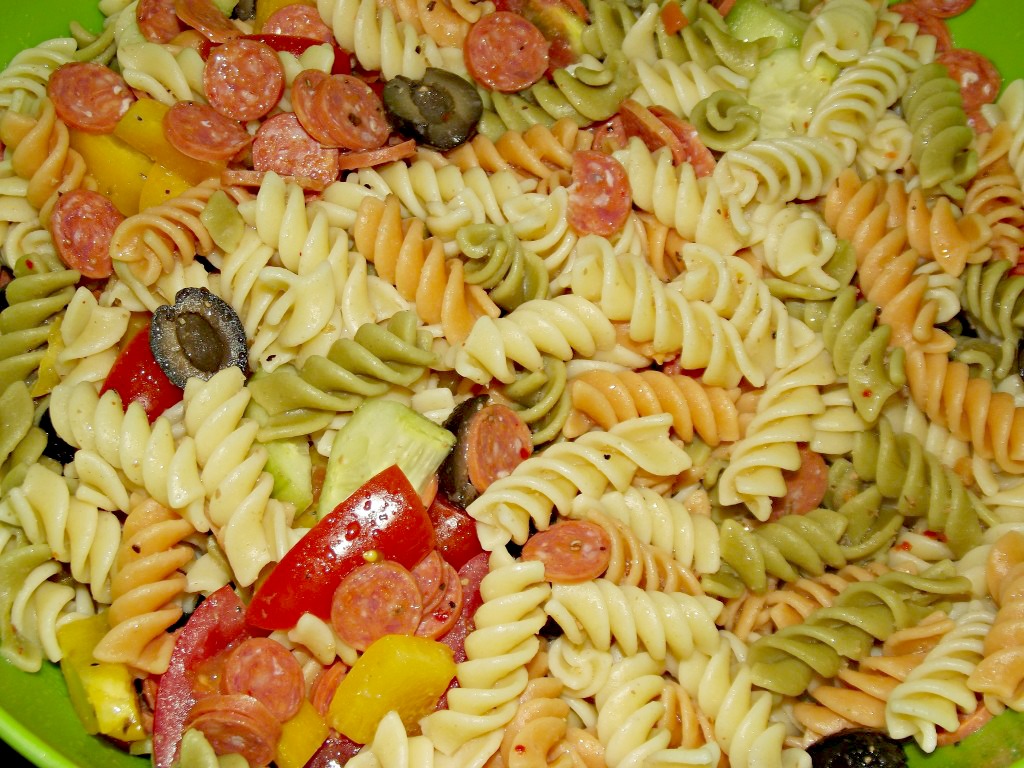 We had a bbq a few weeks back and I made this yummy Italian Pepperoni Pasta Salad, and it was a big hit! I have been making this pasta salad for years. It is very easy to make and you can add any vegetable you love. I am not a huge fan of tomatoes, so if we are at home, I normally put those on the side. If I take it to a party I add them in, cause I know a lot of people like them. Plus feel free to add shredded cheese in it, or as a side to possibly add on it. Very good and easy to transform the salad to your liking!
This is great to have for lunches, and stores nicely. Sometimes it soaks up the sauce so you will have to add a bit more the next day, but that isn't anything major!
Ingredients:
1 Box Of Pasta (any brand will do) 1 Cucumber peeled and diced 1 Yellow Bell Pepper 1/2 Package of Grape Tomatoes Diced in Half 1 Can Black Olives Diced 1 Packaged of Mini Pepperoni 1 Bottle of Zesty Italian Dressing (any brand will do)
 How to Make: 
Cook pasta like the box says, once cooked run cold water over it to cool it down, then drain and pour in bowl. Dice up all your veggies and toss them in with the pasta, and put pepperoni in as well. Take your dressing, shake and pour over pasta, and stir to get it mixed up. Once it appears that mixed, you can save the leftover dressing, and use it later, as the longer it sits the pasta soaks up the dressing some. Then keep in fridge to keep cool.