Before we know it, July 4th with be here! I am getting really excited for the 4th, I love to watch Fireworks. Our town puts on a pretty good show. We live in a smaller town so it isn't anything like you would see in a big city, but it is pretty darn good to me!
I thought it would be fun to share a 4th of July Inspired recipe to get ready for the holiday. This Red White Blue Patriotic Trifle is so cute and really tasty. The recipe below is for homemade cake but if you don't feel like making it from scratch, you can buy a boxed white cake and mix it accordingly, and then just separate the colors  once batter is well mixed.
This is a really easy dessert that doesn't take much time, and is super cute. I hope you enjoy!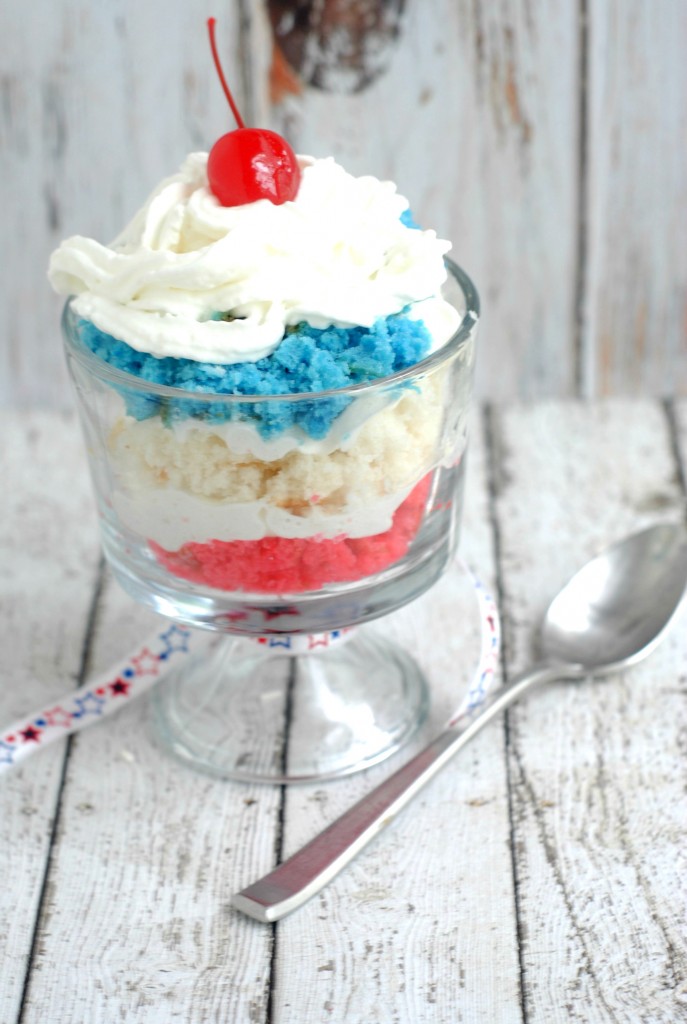 Anchor Hocking Presence Mini Trifle Footed Bowl, Set of 8

Anchor Hocking Presence Trifle Footed Dessert Bowl

This recipe makes about 8 Mini Trifle
, but you are welcome to do one big one! This recipe will work for individual trifles or one big one!  To make the mini trifles, I love these mini trifle footed bowls. They are just the right size! Now let's get on with how to create this delicious masterpiece!
Patriotic Mini Trifle Ingredients ­
1 C. sugar 1⁄2 C. butter, softened 3 egg whites 1 1⁄2 C. flour 2 tsp. Baking powder 1⁄2 C. milk 2 tsp. Vanilla 1 can of whipped cream (I used Reddi­Wip) blue food coloring red food coloring maraschino cherries for topping (optional)
Directions ­
Preheat the oven to 350 degrees. 1. Combine the sugar, butter, vanilla, milk and eggs and mix well. Stir in flour and baking powder. Mix well. 2. Separate the batter into thirds, leaving one bowl white. In the second bowl add 3 to ­4 drops of red food coloring. In the third bowl add 3­ to 4 drops of blue food coloring.
**You may want to add a few
more drops depending on how 'bright' you want your batter to be.
3. Pour each batter separately into (3) greased and floured 9×9 or 8×8 baking pans and bake 15 to ­20 minutes. Test the cakes with a toothpick and if it comes out clean they are cooked through. 4. Remove the cakes from the oven and let cool. Remove from the pans and lay on wax paper. 5. Using a knife or a fork cut the cakes into small chunks.
Assemble Trifles
Now once cake is cooked and cooled, it is time to start layering the trifles ­ – Layer 1: Red cake chunks – Layer 2: Whipped cream – Layer 3: White cake chunks – Layer 4: Whipped cream – Layer 5: Blue cake chunks – Top Layer: Whipped cream with a cherry on top (optional)  
I suggest serving immediately. I do not recommend saving (the whipped cream melts quickly). If you have any cake leftover you can save that in an airtight container up to 1 week.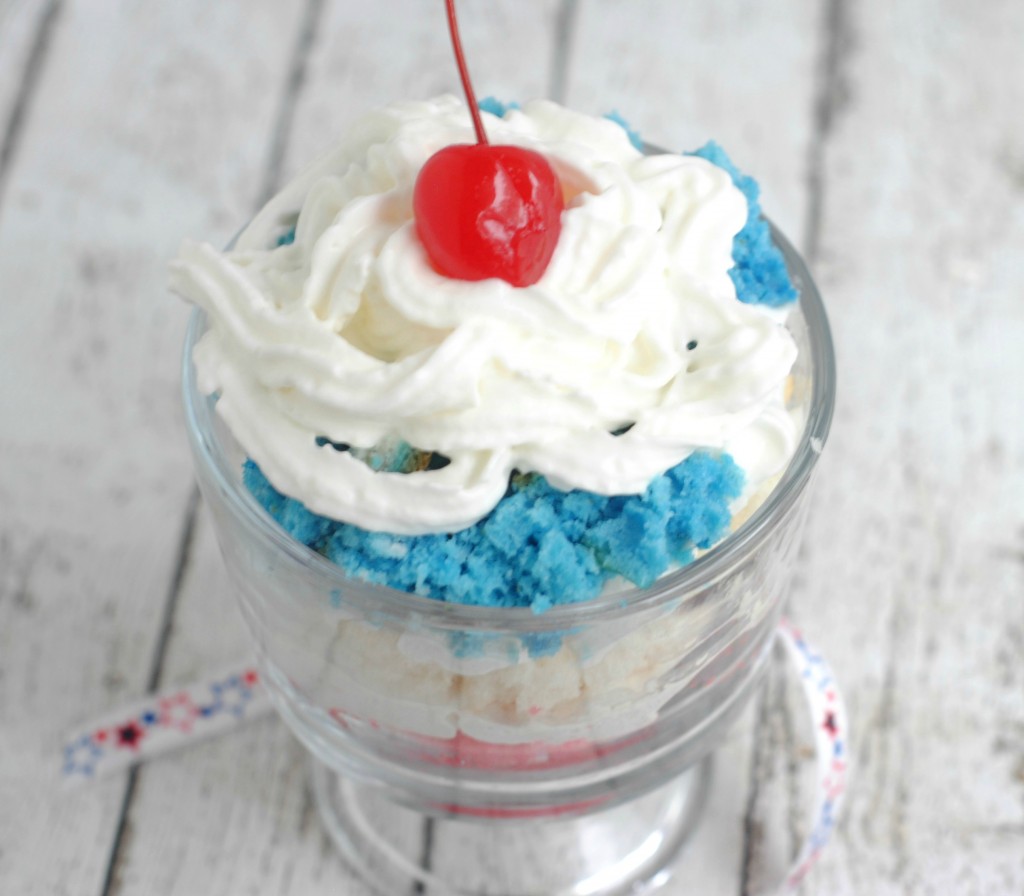 I hope you enjoy this recipe, and if you make it, I would love to hear what you think!