As we head into summer it's time to great ready for all of the patriotic holidays like Memorial Day and 4th of July! To make decorating fun, easy AND adorable we have this easy DIY patriotic bunting craft! This rustic style bunting uses old blue jeans along with red and white striped fabric and strips of burlap to create a flag bunting to decorate your home, your front porch, your BBQ space or classroom. The instructions are easily adjustable to make your bunting as big or as small as you would like. I'm thinking this decor would look great all summer long!
One more bonus is that this DIY patriotic bunting craft requires no sewing skills! I think that hot glue is a lot easier than using a needle and thread or running a sewing machine. You can find the other supplies at your local craft store, or easily get them to your home within a couple days through the links below. If you don't have an old pair of jeans to use, you can always buy a small piece of new denim or head to your local thrift shop to pick up a pair of jeans.
Natural Burlap

Vastar Hot Glue Gun with 30 Pieces Glue Sticks

Americana Acrylics, Titanium White

Martha Stewart Crafts Detailing Brushes

Stripes Big Red White Poly Cotton Fabric

Scotch Precision Scissor

DIY Patriotic Bunting Craft
**This bunting was cut to make 8 flags.  It measures a bit over 8 feet 3 inches long. If you want a longer or shorter strip of bunting, the fabric yardage may need adjusted.  If you would like a short bunting, we recommend making the flags smaller.**
Supplies:
½ yard Red and White Stripe fabric
¼ yard denim fabric or you can use an old pair of blue jeans
hot glue
hot glue gun
burlap
white acrylic paint
small paint brush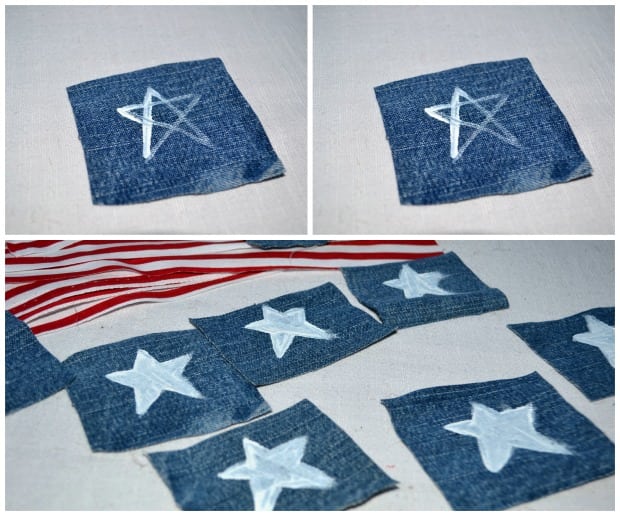 Instructions:
Cut the red and white striped fabric to approximately 9 ¾ x 5 ½ inches.  We cut out 8 flags for this bunting.
Next, cut the denim. We used an old pair of kidsjeans that were outgrown and had too many holes in them to donate.  You will need to cut out 8 rectangles.  Ours are not all exactly the same size (that's part of its charm) but they are between 3 ¼ and 3 ½ inches long and 2 ½ and 2 ¾ inches wide.
Using a small paint brush draw a star on each of the blue jean patches.  You could leave them as just the outline or paint them in.  It's all personal preference!  Let the paint dry. 
Cut 4 long strips of burlap.  Don't worry about being straight or perfect.  The burlap will fray a bit.  The strips should be about 25 inches long each.
Tie them together to make one long strand.
Now comes piecing everything together.  Fold one side of each of your flags.  We folded ours down 2 ½ inches making each flag the same size. 
Using the hot glue gun, glue on your star patches on the top right hand corner.
Next, flip over your flag to the back.  Lift the 'flap' open and place your burlap leaving yourself enough room on the ends to hang it, hot glue the burlap to the flag.  (We hot glued each side of the burlap) Then close shut.
Repeat.  We did 2 flags before each of the burlap knots on mine.
Hang your flag bunting!