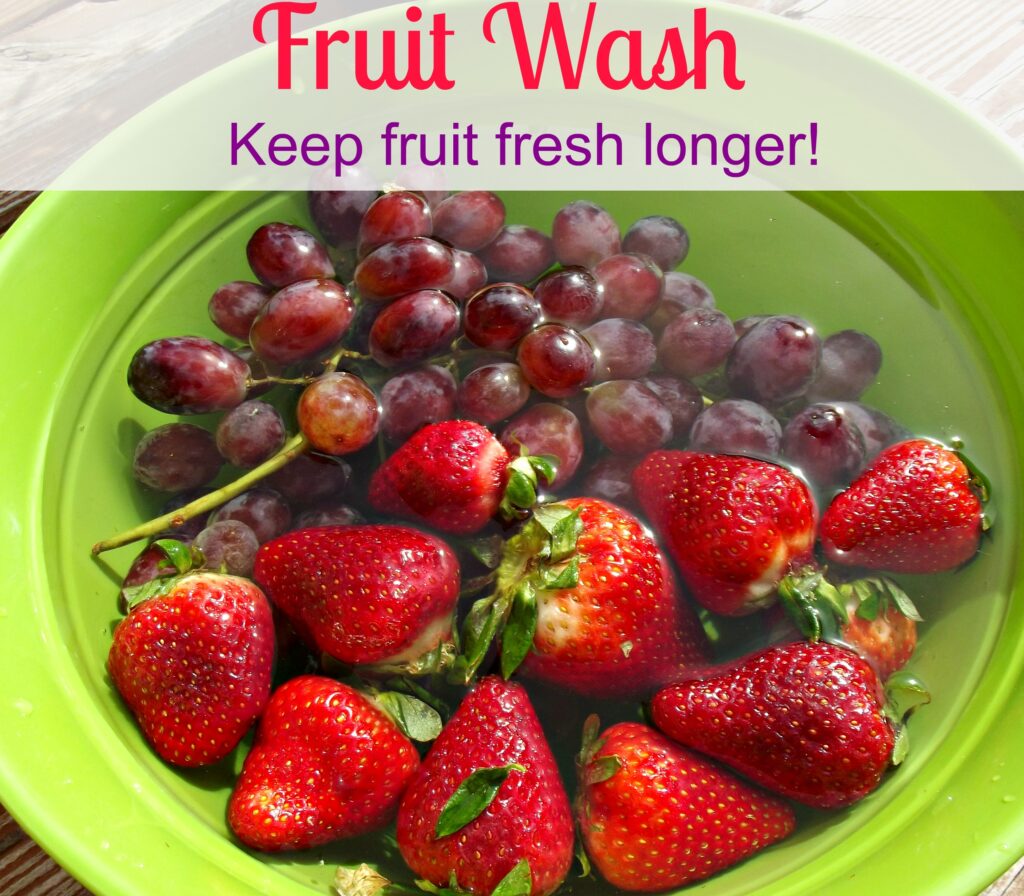 I am a huge lover of fruit, but sometimes I get frustrated when I go shopping I can't buy the fruit all at once because it goes bad so fast. Well, here is a very easy produce wash that you can use for vegetables and fruit! I use it for my fruit, and it does help keep the fruit from molding and going bad as quick. I just tried this for the first time earlier and it does work nicely. It helps preserve the fruit as well as cleans it. The gross thing is, after I washed the fruit, you could see stuff in the water, and discoloration from the fruit.
When I was researching for a vinegar fruit wash, I was hoping it would be a nice fix to my fruit going bad before I have time to eat it. This is a very easy wash and works great! All you use is water and vinegar! You use 1 part vinegar and 3 parts water! I was hoping that by soaking my fruit in this wash, it wouldn't pick up the flavor of vinegar! It didn't leave any vinegar taste in the fruit at all!! Some people said it can leave your berries from molding for up to 3 weeks. Granted I can't vouch for that as I don't have fruit for that long hanging around ;-)!
This makes me happy and is a great time to know this, since it is time to start working on the garden, and it can help preserve our fruits and veggies! So below is how I cleaned my fruit with this wash.
What you Need: 
Water Vinegar Fruit or Veggies Bowl  Strainer Towel or Salad Spinner 
How to Clean Fruit and Vegetables: 
Depending on how much fruit and veggies you have to wash, it will depend on how much water and vinegar you need. You want 3 parts water and 1 part vinegar. So what that means is 3 cups water and then 1 cup vinegar.
Mix the water and vinegar in a bowl, toss your fruit in or your vegetables. Allow them to sit for about 15-20 minutes. Feel free to mix it around here and there while it is soaking. Then once done soaking pour fruit into a strainer and rinse the fruit or vegetables. Then drain produce the best you can, and lay the produce on a towel to dry. This is an important step, it will help keep it from molding and such so fast. Once dry, you can place in a bag or a container or how you normally store produce.
I saw on another post they use a salad spinner to dry the fruit. They put a few paper towels in and spinned it until dry. I personally don't have a salad spinner so I just use the towel method and it works just fine.
Feel free to Pin this on Pinterest, so you can remember this next time you have produce on hand!
This post may contain an affiliate link. Please see my
Disclosure Page
for More Information.