Our product goal is to achieve uncompromising footwear performance. We work with leading biomechanists, designers and athletes to develop footwear that will provide the appropriate balance of traction, grip, flexibility, cushioning and durability for a variety of outdoor activities whether on trails, beaches or sidewalks.
Ahnu pioneered Numentum™ Technology; a neutral positioning system engineered to encourage your foot's natural biomechanics. It is designed to center and guide the foot to promote an efficient, stable and balanced stride.
From our factory standards, to the use of certified post-consumer recycled fibers in our catalogs and packaging, our commitment is visible throughout all aspects of our brand.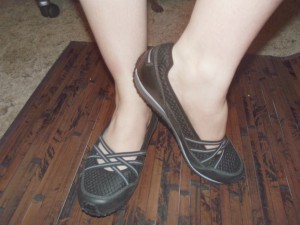 I received a pair of Crissy Style of Ahnu Shoes for review! I love the style of these shoes, they are different then other shoes I see around here. Plus, they are extremely comfortable, and they look cute. They have 4mm rubber skin, and an Antimicrobial sockliner. That is something that I don't see in other brands.
I love the elastic bands that are on these shoes, they really add some good character as well as making sure my shoes stay on! These are perfect for this wonderful Spring and Summer weather that is upon us! I am pretty impressed with these shoes and such. I recommend trying out these shoes, and other style of shoes Ahnu has to offer.
Where to Purchase:
Click Here to head over and shop the Ahnu line of shoes. You can grab a pair of Crissy shoes for $100. They also have other great looking shoes up for grabs.
Giveaway Prize: 
1 Lucky Reader will Win a Pair of Crissy Style Ahnu Shoes. This giveaway is open to US residents only, and will end on 4/13 at 11:59 p.m. Est. I will choose the winner using Rafflecopter, which draws a winner at random. I will contact you via email, and you will have 48 hours to respond with your contact information or I will then choose a new winner.
TIP: If you don't see Rafflecopter Click READ MORE and it will then show the Rafflecopter Form!!
I was not compensated to provide opinion on products, services, websites and various other topics. The views and opinions expressed on this blog are purely the blog owners.