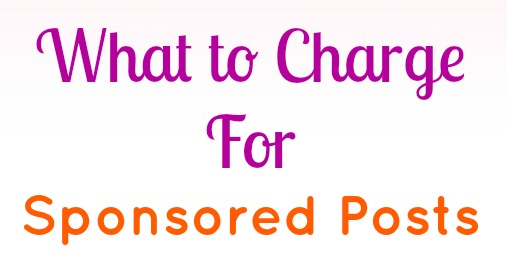 NOTE: This is meant for newer bloggers who are just starting out! To get a feel on what to start out charging. If you are a bigger blog then this post is not for you!
I see this question all over the place, on what to charge for sponsored posts. I know some people just guess on what to charge, and some have a calculation system to figure out what to charge. So I thought it would be nice to share the method I use to charge for paid post. I found this post on Babble with the equation they shared on how to determine what to charge. I have used this way for awhile now and I haven't had any problems with it.
Granted this isn't the only way to find what you should be charging, but I think it is great, and I use it all the time. So here is the math. For the Page Views I used Google Analytics to see what my page views were.
Number of Page Views  + Number of Twitter Follows ÷  
Page Rank
x $ 0.01 ÷ 2 = (equals)   _____________________________________ Your approximate sponsored post rate.  
Pretty easy to do, simple math and I was surprised at what my sponsored post rate was! Now, if you are a smaller sized blog and it is under $25 after you do the equation, I still say a minimum charge of  $20 -$25 would be good. You still deserve to make money and even when I was smaller I charged a minimum of  $20-$25 for my time. I still received "Yes" from time to time when I was asked what I charge.
This post goes hand in hand with my last post about Not Working For Free, and if you haven't read it feel free to check it out. You are worth being paid for!!
Hope this helps you to figure out what to charge. I love Babble, as they really did a great job at coming up with a way to find what to charge, and it seems to be working great on getting the answer YES from companies! How do you figure out what to charge for sponsored posts?
Note: Someone pointed out that if you have a higher page rank it can bring down rate. Most bloggers don't have a really high page rank (normally 6 0r under). If you have a pretty high ranking, then this method probably won't work for you. (Again this is an example method to figuring it out, it may not be ideal for all bloggers) You can skip the final step of dividing by two, but it could make your rates too high, and companies might not pay.  If you think it is a reasonable price then go with it. This isn't a method you have to follow step by step, this is just how I figure mine out! Overall, it is your call, this is just a way to have a start to figuring out where to start.