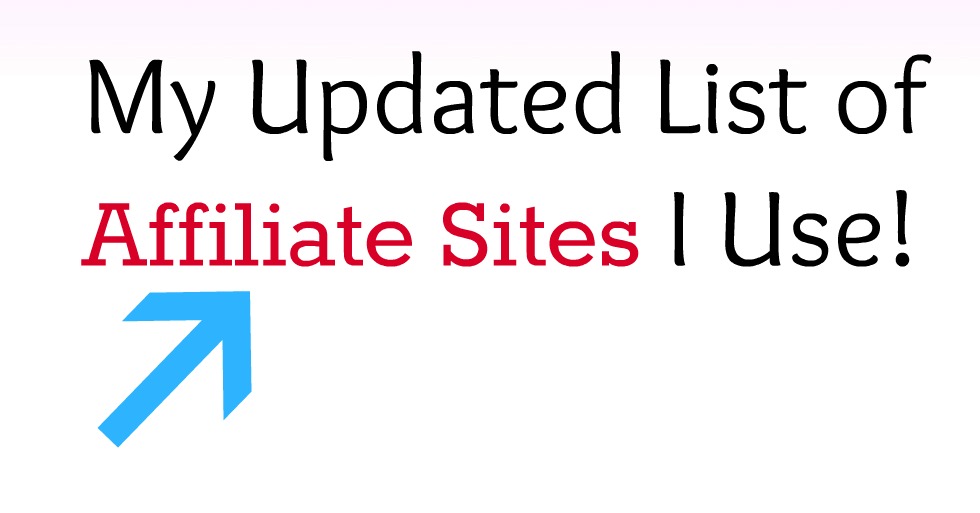 I have shared in the past affiliate programs where you can sign up for. I thought it was time to update my list of affiliate sites I use as it has grown. I have affiliate programs below that show the sites to join to work with stores, and than programs where you get special offers for random sites. They are all worth signing up for and I have made money from every single one I am listing below. That way you can see all the great programs out there, in case you are wanting to start or looking for more programs to join!
Affiliate Programs for Online Stores – These are affiliate programs for like Sears, Kohl's, Walmart, etc. You can then link to the stores to make money depending on what offers they have.
Linkshare: This is a great site with tons of companies from Walmart, online shops, Kohl's, etc. Lots of great businesses you can possibly work with. You do have to get approved by each company, but only takes a second to apply.
ShareASale: I have been loving working with them, good companies you can use and they have offers where writing post from time to time they give you a set pay for it. I have made quite a bit of money from them the past few months!!
Commision Junction: I have been a member of this site for years now and I make good money off of it. I find it isn't as easy to navigate as other affiliate programs so I tend to use this one a lot less than others. But, regardless it is still a great one to be a member of, and they do have training video's on how to use their site.
Pepperjam/ Ebay Enterprise: I haven't fully used this site a ton but they do have good companies you can apply for to work with. The site is decent on how to navigate through, but I haven't messed with it a ton yet.
Affiliate Programs For Special Offers- These affiliate programs below are for special offfers
Escalate: Has lots of different offers on it, worth checking out. I have recently just started using them and have made pretty good money so far. I am excited to see how it goes with them!
CenterPoint Media: I love this one! I have been a member for over a year now and they have pretty good offers with good payouts. I like the variety of campaigns you can choose and they do have one of the higher payouts on the offers than other programs out there.
Logical Media: This is another good one, I have been a member for a few years and have cashed out a few times. I think it is $100 before you can cash out, but they have pretty good offers and send emails from time to time with new ones.
Mom's Affiliate: This is a pretty good one, it is still pretty new to me, I just signed up the other day. Looks to be promising though!
So that is my list, and I would love to hear what Affiliate programs you use and love as well!!