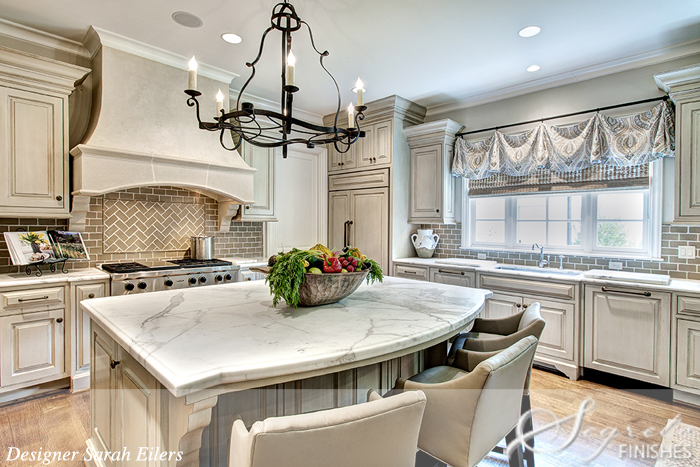 Photo Credit: Segreto
I loved to cook and bake, it is something my dad taught me to do when I was younger, and ever since I have always cooked. Granted, I have days, maybe even a week where I feel like I am in a rut and don't want to cook, but for the most part I enjoy it!
We bought our home a little over 5 years ago, and their are a few things I wish my kitchen had, and had room for! It is a decent size kitchen, it is just a little smaller than I would like.
If I could choose any three appliances or upgrades for my Dream Kitchen they would be.. 
1. Dishwasher – Hands down I want a dishwasher! I am currently the dishwasher, and it gets a bit old always having to wash the dishes by hand! It would be so nice to pop the dishes in, and with a few clicks of a button, your dishes are being washed, and I can catch up on my latest reality tv shows, and paint my nails! Every girl can dream right?!
2. Top of the Line Refrigerator- We have a pretty old school refrigerator. All the other appliance have been upgraded, and the fridge is still going strong. I would love to one day get one of the new top of the line refrigerators. I have always wanted a two sided door fridge, with an ice maker and water dispenser, and a freezer on bottom. I would prefer stainless steel that doesn't smudge, I learned about those a few weeks back!! Our stove is stainless steel but it smudges, I wish I knew about the appliances that are smudge-proof, because I totally would have bought one of those!!
3.  An Island- Granted I know this isn't an appliance but I have always dreamed of a kitchen that has an island with stools around it! I would love to have a marble counter-top, it is something I have always yearned for. I think it would be so fun to cut up veggies for dinner on the island and prep food and be able to turn around and their is the stove, fridge etc. I am a bit messy in the kitchen so having that much more counter-top would be a dream come true!
What is an appliance or upgrade you would want if you could have anything?!?