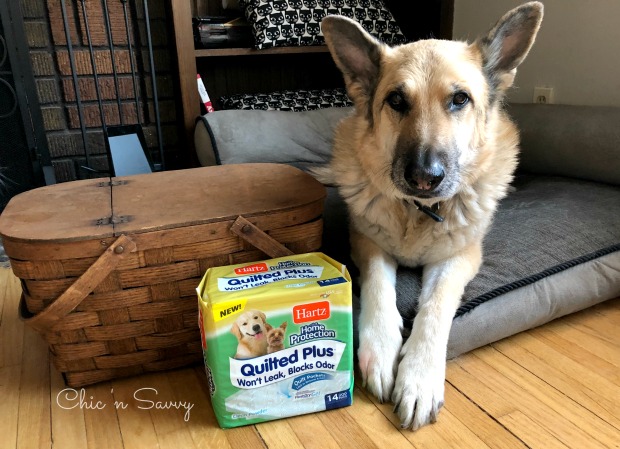 We all love our dogs. Sometimes they need a little extra help when it comes to potty training or, particularly for older dogs, dealing with incontinence. Now there is something brand new to help out you and your pup: Hartz® Home Protection Quilted Plus dog pads.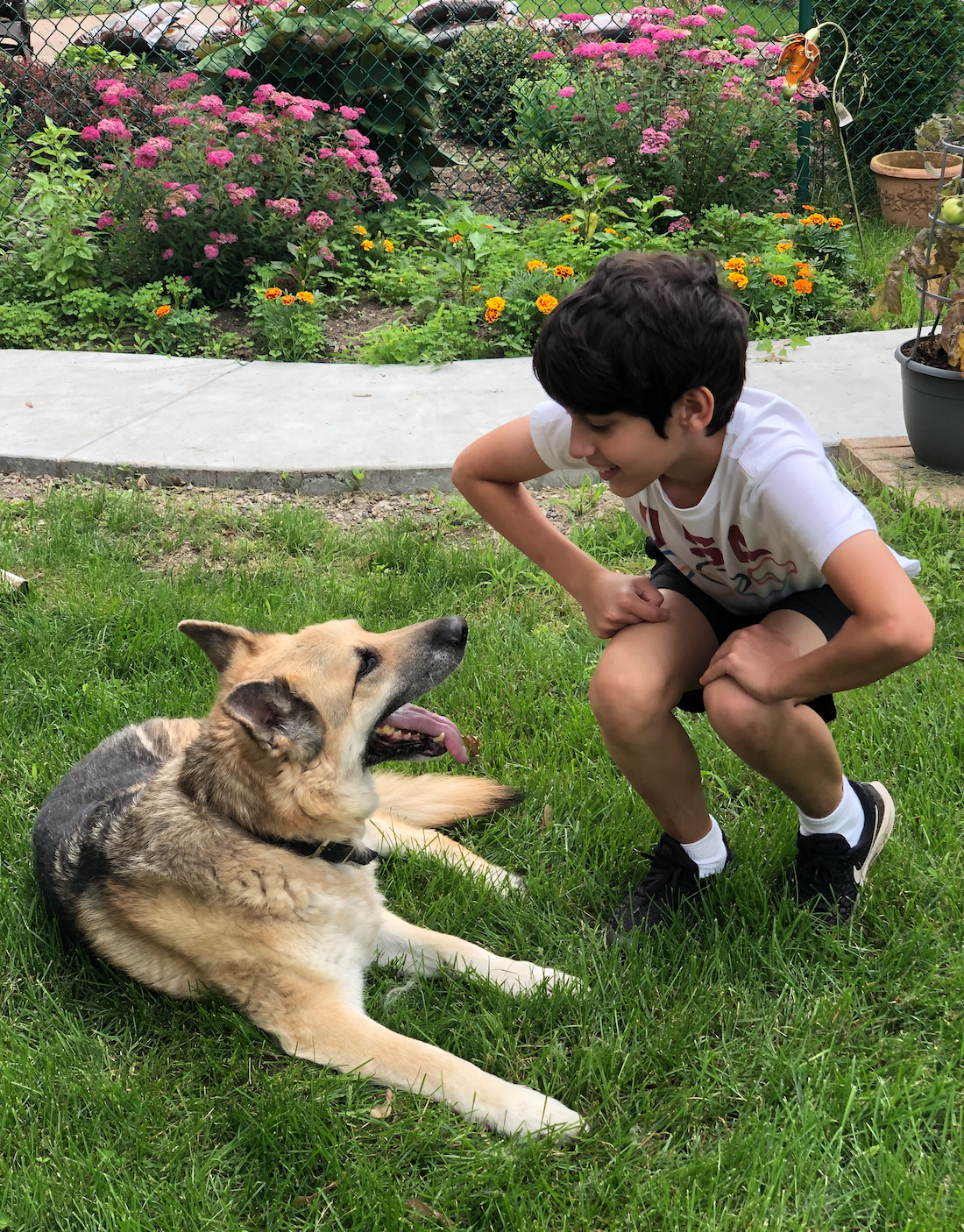 These pads are specially designed with highly absorbent quilt pockets using unique printed dot embossing that traps wetness in the center to prevent spreading and leaking, unlike dog pads with "standard quilting", which cause wetness to spread.
Each Quilted Plus dog pad contains FlashDry® Gel Technology that turns liquid into gel. The Clean Powder scent eliminates odors with odor-harmonizing fragrance technology.
Quilted Plus dog pads are also perfect for lining dog crates and carriers, drying wet paws or fur after a snowy or rainy walk, or to protect car seats while traveling.
Hartz® Home Protection™ Quilted Plus™ dog pads feature:
'DOT-TASTIC'™ DESIGN – Unique appearance, unlike any other dog pads, showcases highly efficacious pattern featuring dots of quilt pockets which help absorb odor and liquid to avoid leaks.
FLASHDRY® TECHNOLOGY: Liquid instantly turns to gel with FlashDry® technology, locking in moisture to prevent leaks and odors.
WON'T LEAK OR SPREAD: Unique Quilt Pockets trap wetness and odor in the center, unlike standard quilting that allow it to spread.
ODOR CONTROL: Harmonizing odor technology neutralizes odors, and features a pleasant clean powder scent.
IDEAL FOR PUPPY TRAINING
ALSO RECOMMENDED FOR: Elderly or sick dogs, extended indoor stays, or for use while traveling.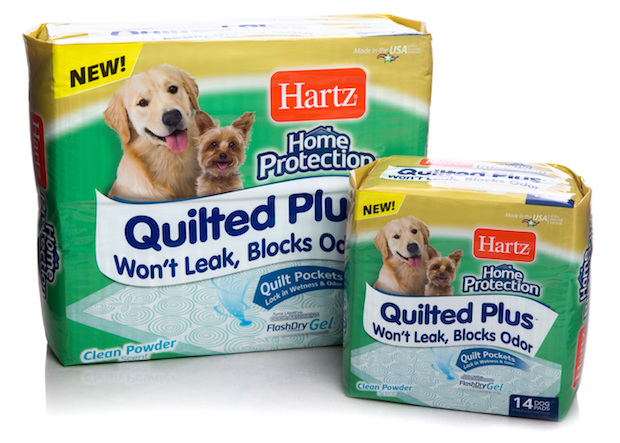 You probably use other products in your home that already have quilting – things like baby and feminine products and paper towels. You know how much better a quilted paper towel is at picking up wetness compared to a non-quilted towel. Now just think of the same concept, but for your pet's messes.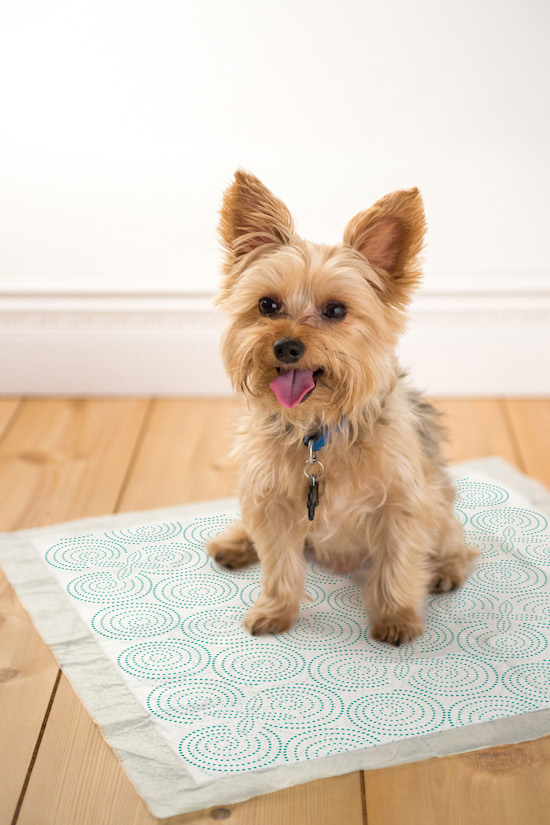 Hartz Home Protection is already America's number one dog pad brand, so these new Quilted Plus pads just take the protection one step further. Another big plus is that Hartz Home Protection Quilted Plus dog pads are affordable! You'll find them for right around $4.99 for a 14 count package or $12.99 for a package of 50. The product is made in the USA.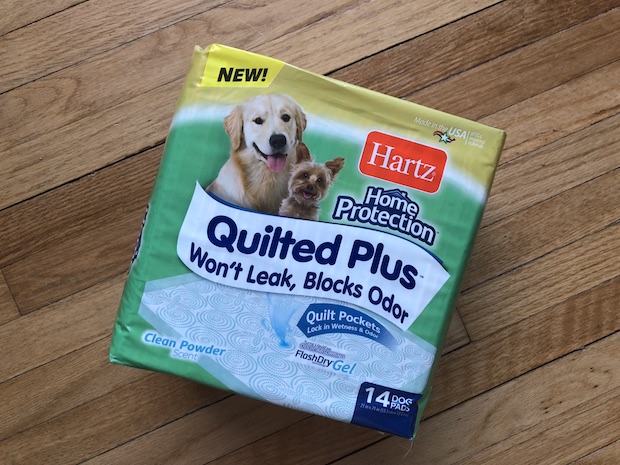 Take the Hartz® Quilted Plus™ No Leak Challenge for a Chance to Win a Free Package
Are you ready to give these pads a try with your dog? You're invited to take the Hartz® Quilted Plus™ No Leak Challenge! Just compare your experience with Hartz® Home Protection™ Quilted Plus™ versus the brand you are currently using and sharing that experience on the Hartz® Facebook or Instagram page. Each week, the first 20 respondents who post will receive a free package of the new Hartz® Home Protection™ Quilted Plus™ dog pads. (The challenge is in no way sponsored, endorsed or administered by or associated with Facebook or with Instagram.)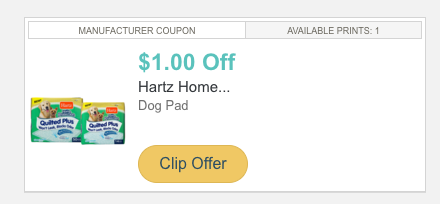 Print a Hartz Quilted Plus Dog Pads Coupon:
Visit Hartz.com to print a $1 coupon that you can use on your next purchase of Hartz Quilted Plus Dog Pads.