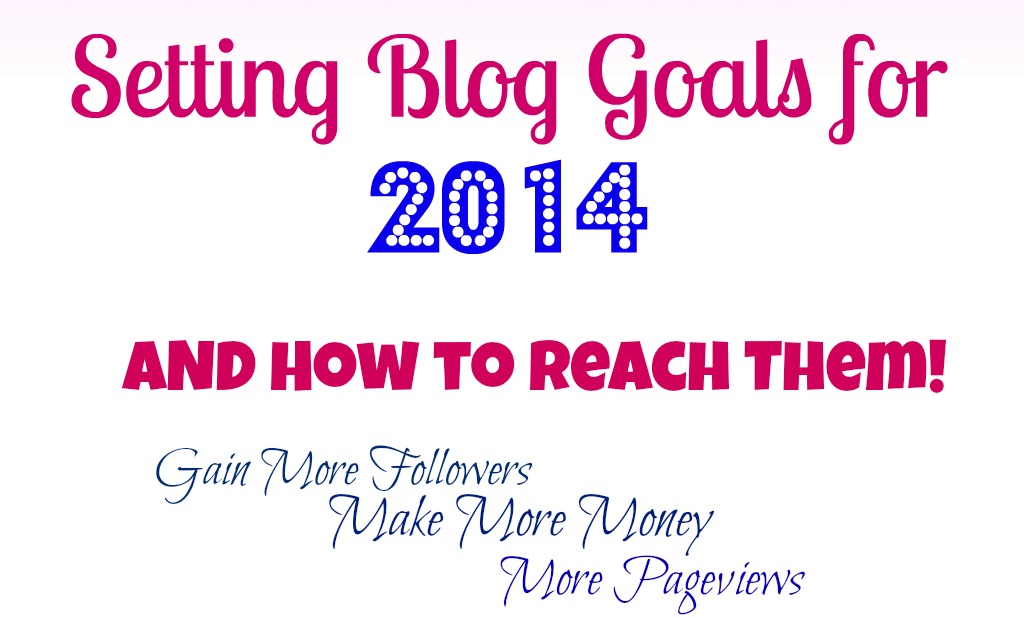 It has been awhile since I last talked about Blogging Tips and Tricks. I thought with the year coming closer to an end I would talk about Setting blog goals for 2014. Last year I set some smaller size goals and a few larger size ones, and I was looking back over them, and I was very surprised to see I met each of my goals I made!
By setting my goals it gave me something to strive for throughout the year, and as each goal was met I felt accomplished! As for the bigger size goals I was a bit worried I might not reach them, but with each day that passed I kept my eye on the prize. I found that setting these goals really helped me in having a very productive year.
What would be some goals that you want to reach for 2014? Maybe to score a great product to try out, or make x amount of money each month, or get a select amount of page views each month. Regardless of what your goal is, just know it is do-able. Blogging does take time but in the end if you put the effort in you will be rewarded!
Here are some of the goals people set, and how to help meet your goals! 
Making an x amount of money each month: This is a big one I hear over and over. Wanting to turn your blog into a business. Their are numerous ways to make money from paid campaigns, affiliate programs, sponsored post and etc. I have shared over and over groups you will want to join to find help in sponsored post and such. Working with other bloggers is key! They can also help you along the way with questions you may have. Make sure your email is visible on your blog, that way if someone does want to work with you it is right there in the open and they don't have to go searching. I have heard over and over again, if they can't find your email you won't get the job!
Gaining more page views: Everyone wants to get more views on their site. Writing a post that stands out or is on a trending topic can really help you to gain traffic. I know someone said they posted a statistic that was sent to them and within the first 2 hours they have over 5,000 page views. Talking about something people are interested in is very important. No matter what you talk about on your site their is always a topic that is trending in that area. For me as a deal blogger when Black Friday hit I could share a statistic on Black Friday vs. Cyber Monday!
Wanting More Followers via Social Media: If you want to gain more views on Facebook, Twitter, Pinterest, etc. then make sure you are getting out there. Strike up conversations on the media sites to engage followers. Another great way is to do a giveaway or join in on a group giveaway. This allows you to gain followers by them entering the giveaway.  I created a video on how to start doing reviews and giveaways if you are interested! I love to host giveaways on my site, and because of that I have gained more and more readers over time! If you already do giveaways on your site, think about doing a group giveaway. I recently joined in on one and because it was showcased on numerous blogs I gained new followers. From one giveaway along I gained over 200 new "likes" on Facebook. You just have to think outside of the box at times. I never pay to join giveaways, I find blogs who want you to share your giveaway for free. Granted doing one that you pay x amount of money for a link can be beneficial as well!
These are just three easy ways I look to when I am settings goals to be reached. Each year I look to grow my site bigger and bigger and I use these tips to help me get to where I want to be. I hope these can help you to grow your site, and become bigger for 2014!
So what kind of goals do you set for your site for the new year?