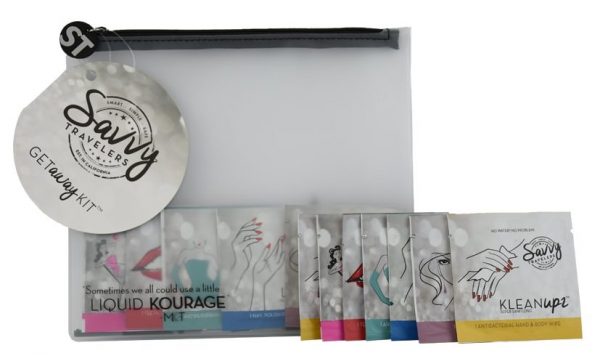 Traveling can be a fun experience, but bringing everything but the kitchen sink with you just to make sure you're covered? Not so much fun.
One product that can help you out is the Savvy Travelers' Getaway Kit. This kit includes 12 different designer beauty wipes to help with any on-the-go emergency! There are facial cleanser and antibacterial wipes, but also deodorant, mouth, and even nail polish remover wipes!
These are all TSA-friendly wipes, so they can easily go on airplanes, even in your carry-on. Every wipe is individually wrapped, biodegradable, compostable, and cruelty-free.
Here's what the Savvy Travelers' Getaway Kit includes:
(1) Klever reusable transparent bag
(2) Speak Eazy: teeth, lip, and mouth cleanser
(2) Bottomz Up: booty bidet wipe
(2) No Sweat: antiperspirant and deodorant wipe
(2) Take Offz: facial cleanser, toner and moisturizing wipe
(2) Klean Upz: antibacterial hand & body wipe
(2) Lift Offz: nail polish remover wipe
MSRP: $15.00
Enter our reader giveaway HERE!