I use Grammarly's plagiarism checker because what I have to say should always stay as an original! That is how awesome I am :-)!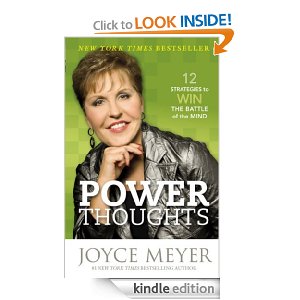 I have been reading Power Thoughts: 12 Strategies to Win the Battle of the Mind
 by Joyce Meyer. I really love to watch her on tv and read her books. I find that she really has a great way of teaching! I can really relate and grasp the what she talks about.
This book is a great tool for those who want to grow closer to God, and learn how to Win the Battlefield of the Mind! We are all at battle with the enemy in our minds. We can choose to allow any thought come in and plant seeds in our mind. Sometimes if we don't filter our thoughts we will have a garden full of weeds and not flowers. We can choose what we think about!! This book teaches you a way to turn our thoughts into habits, and habits into success!!
I am not fully finished yet with the book but so far I have loved it. I never realized I could change the way I think. I always thought whatever popped in my mind, is what I would think about! Now I know, when I feel like the enemy is trying to bring me down, I replace it with a promise from God, and I instantly feel better.  I pray that I can find peace and not be full of anxiety or worry about things that are not even happening. When I find myself thinking or dwelling on an issue, I remember a scripture and say it in my mind, and change my thoughts to something good.
Shop: 
You can buy a Kindle Edition or Hard Copy over at Amazon
 if you are interested in reading it. Or you could find it in a Christian Book Store near you! I think it is a great book, and it has really helped me to change my thinking habits!
Do you like to read books like this?