I don't think I could ever have enough nail polish! I was super excited to get to try out some of the  new
Hard Candy
Nail Polish line. With Spring upon us, I am really ready to start wearing brighter colors, and of course sparkles!!
Walmart carries the new shades of Nail Lacquer that Hard Candy is launching, with a total of 45 new shades!
! WOW, that is a lot of new colors to choose from, cause they are all so gorgeous! Not only will nail aficionados fall for the colors but they will also flip for the price of $3.97 each!
What are the lines you ask… 
Crushed Chrome Collection. Luxurious and timeless hues embellished with a golden textured finish. This collection boasts refinement and sophistication and is infused with a vivacious luster.
Itsy Glitzy Collection. Intense, illuminating, and incandescent hues saturated with the richest and most extreme mica and glitter. Inspired from the runway and now at your fingertips.
Crystal Confetti Collection. A unique collection based on artistic expression. Flourishing, adventurous, full coverage shades with various particle sizes and creative textures. Graffiti is revolutionary; it's an outlet to create public art. Now take this artistic and creative expression to your nails.
Candy Sprinkles Collection. Suspended in a clear top coat, shimmery flecks sparkle brilliantly with different shapes of shiny glitter. Candy Sprinkles is a fabulous top coat over any color.
Glitteratzi Collection. The combination of confident opposites and intimate tonalities mixed with the right amount of sparkle creates enthusiasm for the vitality of life. The hues are natural and are becoming more evolved and colored. Tasteful tones with all the personality to satisfy every trend setter.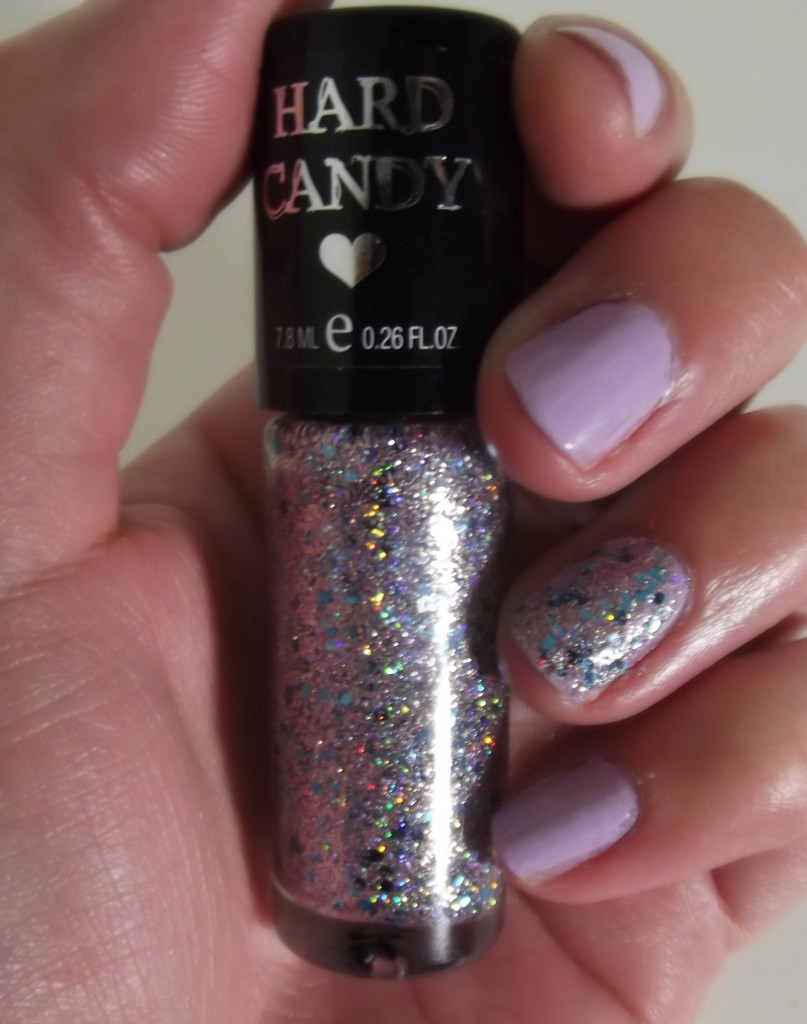 I am really loving this So So Sequin Number 667! It has some really pretty sparkle it has. The small and large sparkles really adds a new feel to the whole nail polish I think!! When the light hits it, it just sparkles like crazy! My husband said it was a pretty color too!
Out of all the colors from the Hard Candy Nail Polish Line  I  received I honestly can't fully pick a color that I love more. I think I have a winner and then I re-look over them, and choose a different one. They are all so pretty and look great on your nails too! Some polishes that have sparkles I have found don't apply that well, but these polishes are packed with sparkle and very easy to apply. 
Overall, very impressed with the polishes. They last on the nails, very easy to apply, packed full of sparkles, and gorgeous in colors. I am very excited to go to Walmart and grab some more of the colors to try out!
Where to Purchase: 
The Hard Candy Nail Polish Line is available exclusively at Walmart, and online at Walmart.
I received the Hard Candy Nail Polishes for free to share my honest opinion! I was not compensated to provide opinion on products, services, or website. The views and opinions expressed on this blog are purely the blog owners.