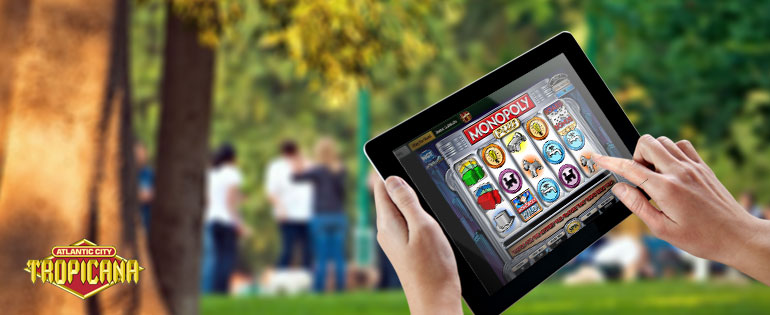 My husband and I enjoy gambling from time to time! Now we are not huge spenders or betters, but it is still fun to go to the casino or buy lottery tickets and try out luck! At the casino we have won over $500 in one sitting, and some other smaller numbers. It doesn't matter if I win $20 or $90 I am still shocked and beyond happy each time! When we win, Adam and I normally split the winnings between us, so we can both win!! I normally buy clothes or something, and he buys stuff for his vehicles for Mud Running season!
Now on lottery tickets, the day before my birthday one year I won $100 on a $1 scratcher, talk about awesome!!! Adam has won $100 on a ticket before too! I don't know what I would do if we won like $1,000, or $10,000?!? Probably pass out!
I know that online gaming is illegal in most states, but some states are starting to legalize real money gaming! New Jersey became a legal state last November!  Now don't feel like I am pushing you to do this, it is just something Adam and I enjoy, and I think it is neat to have an option to do it online!
I really love playing games online, from Farm Heroes to Candy Crush! I have always loved games, and I think it is neat that residents of New Jersey can go to TropicanaCasino.com and have a chance to win real money! If it becomes legal in Kansas I might have to try it out!
Now if you live in a state where it isn't legal yet, like me, here are some fun games I play for Free on my phone! 
Candy Crush – I have been playing this for a few years now, and I use it on my phone or iPad. Some levels are hard to beat and others I can breeze through!! It is a lot of fun!
Bingo Bash– I have always loved playing Bingo!!! So I have Bingo Bash where you get Free tickets each day you can play with! You earn coins and such as well. It is neat because they normally have a room that is created for the upcoming holiday!
Pet Rescue –  I have a love, hate relationship with this game. I am higher up and levels now and let me tell you what it is super hard to beat!! So, I take breaks here and there but always end up playing it again!
Fishdom 2 – This is a fun game I have been playing for awhile. I like that you can complete levels and earn virtual cash to buy fish and accessories for your virtual fish aquariums!
What games do you play online or on your phone?
Or if you like to go to the casino or buy lottery tickets every now and again, I would love to hear about your winnings!