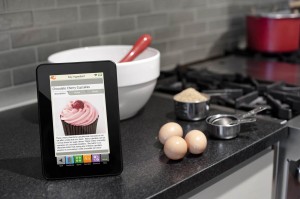 The older I have gotten, I have started to fall more in love with baking/cooking. It is fun for me to try out new recipes, and possibly find some new favorites! Plus with the Holidays coming up, I always bake a lot more. For our family Thanksgiving this year I am in charge of desserts ;-), my sister in law says I am the master of it, hehe which is so sweet of her to say!
So, I wanted to share a fun new app and device you might be interested in. It is a WiFi-Enabled Recipe Reader and app to Collect, Share, Access Recipes, called Key Ingredient!!
 This is a great item for anyone who enjoys cooking and trying out new recipes, and using their classic go-to recipes! You can collect recipes, share them with people, and access your favorite recipes all in one place. With technology all around us, I always go to the internet to search out fun new recipes. With Key Ingredients, you can store up to 2,500 recipes on the device, and it comes pre-loaded with Key Ingredient Recipe Collection, which is so neat!!
You can buy the Recipe Reader, and it is a mobile device that is designed for mobility, and is kitchen-safe! It was built from scratch, and was designed with the needs of cooking in mind. The upright, hands-free device features a unique tap touchscreen, making it a snap for consumers to access all their favorite recipes while they're cooking.  The rugged design means users don't have to worry about splashes and accidents. Built-in WiFi lets the home chef easily find and share recipes on the fly. For added convenience, Key Ingredient offers anytime, anywhere recipe collecting and sharing from its newly updated iOS app and will offer an Android app later this year.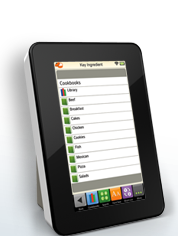 So if you enjoy cooking, or know someone who does, this could be the perfect gift for them! With the holidays right around the corner, it is a perfect time to snag this awesome product!! I love how you can store your personal recipes in this, or search for their recipes. So if you have family recipes that you don't want to get lost, this is a great thing to have, that way it is stored and safe.
PLUS It Offers: 
Convenient Cooking Tools – such as multiple timers
Conversion Calculator
Substitution Dictionary
Additional information:
– Kitchen-safe touchscreen/construction
– Freestanding
– All recipes collected in one easy-to-use device
-Includes tools: timers, conversion calculator, substitution dictionary
Where to Purchase:
The Key Ingredient Recipe Reader is $199 per unit and can be found at  Key Ingredient Store. The Key Ingredient member account and the downloadable Key Ingredient app are available for free.