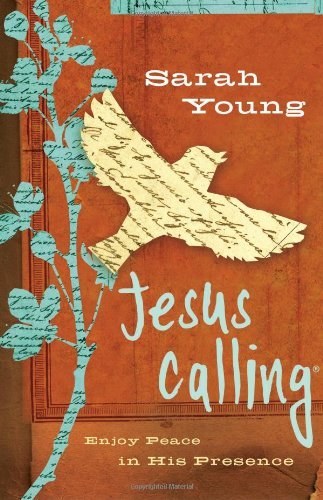 As this year draws to a close, receive my peace. This is still your deepest need, and I , your Price of Peace long to pour Myself into your neediness. My abundance and your emptiness are a perfect match. I designed you to have no sufficiency of your own. I created you as a jar of clay, set apart for sacred use. I want you to be filled with My very Being, permeated through and through with Peace! 
Thank me for my peaceful Presence, regardless of your feelings. Whisper my name in loving tenderness. My Peace, which lives continually in your spirit, will gradually work its way through your entire being. 
For to us a child is born, to us a son is given, and the government will be on his shoulders. And he will be called Wonderful Counselor, Mighty God, Everlasting Father, Prince of Peace. 
Isaiah 9:6
_______________________________
My mother in law gave me this Sarah Young Jesus Calling: Enjoying Peace in His Presence
 a few months back. I was going through a bit of a rough patch preparing to have gallbladder surgery, and I was super scared and overwhelmed. When she gave me this devotional I was surprised at how much I liked it. This devotional is so different than others I have read, it is like Jesus is talking directly to you each day with the words that are written! It never fails the words are something I need to hear for that day. Whether you are struggling with fear, anxiety, not feeling accepted, strength for a rough time, or any other emotion, this devotional brings new light to your faith! 
I thought with the new year coming ahead, if you are wanting to take a step closer in your faith, this is a great devotional for that. If you are looking for inspiration, hope for each new day, and peace, this is the book for you! The devotion above is for December 31st, I wanted you to be able to read one and see for yourself what this book holds! It is amazing and I highly recommend it for yourself and as a gift for loved ones and friends! 
Shop:
I know most Christian Book stores carry this, and you can also shop on Amazon
. They have the Kindle Version or even a hard copy if you would like. They have different looks and styles to choose from!