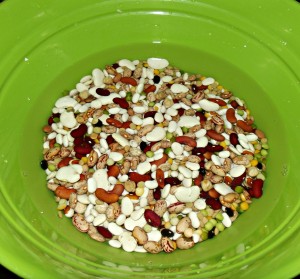 I came across some beans the other day while I was shopping and their were 15 different beans in one bag! I never knew their were that many beans out there!! Well I decided to give a go on 15 bean and ham soup. It is supposed to be Spring out, but it is raining and so chilly, and this just sounded very good today!
 [amd-zlrecipe-recipe:9]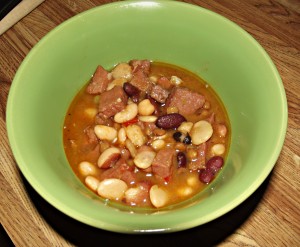 This is a new twist to a classic ham and bean soup. I liked that it had a nice variety of beans in it, and had a really great flavor. Growing up I was taught to add a splash of vinegar to it, it gives it great flavor and it also helps keep your tummy calm!
Plus for us, we always pair ham and beans to soup with cornbread, it is just a perfect pair! If you guys make it I hope you enjoy it!
If you are wondering where I got the 15 beans – it was in a package that said 15 Bean Soup on it, they are dry so in a bag, hopefully you can find these, or find something similar at your local store. I am pretty sure I bought these at Walmart, but it could have been at Dillon's. So if you can't find the exact bag you could find another mix of beans to give it a go!
 This also tasted great leftover, and stored well! What kind of soups to you enjoy eating? I am always up for trying out new recipes, and would love to hear your thoughts!
Enjoy, and feel free to Pin on Pinterest 🙂