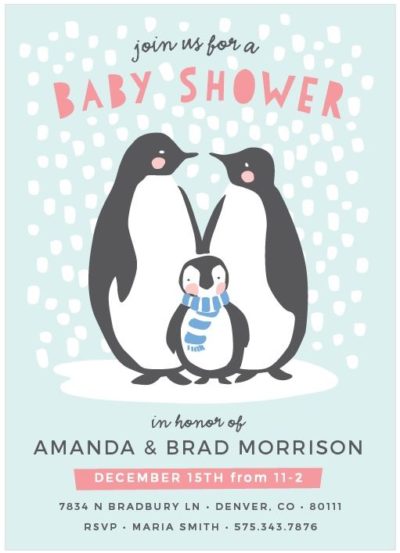 It seems like a lot of babies are born in the spring…three out of my five children were! Spring babies mean winter baby showers, and you can get some absolutely beautiful winter baby shower invitations at Basic Invite. Why not fully embrace the winter season and create your baby shower around that theme?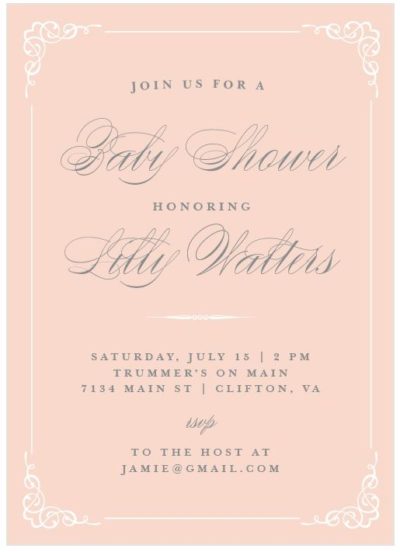 While I only had one baby shower (for my oldest, a boy), I have since had four girls and I would have loved it if I could have had my choice of some of these adorable baby shower invites for girls. Aren't these tutu invitations for baby shower so sweet?
What makes these invitations so special is that you can customize so much on them! Basic Invite offers templates, but you can tweak the colors, fonts, wording, and more to make your invitations, thank you cards, and other paper goods exactly how you want them.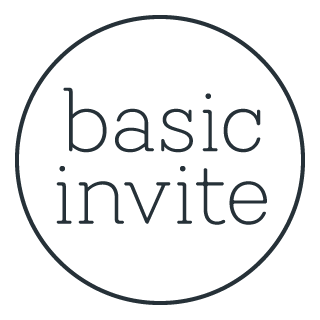 About Basic Invite
Beyond customization, Basic Invite offers a number of other perks:
Almost Unlimited Colors
Basic Invite allows customers almost unlimited color options with instant previews online. Once you select a design, you can change the color of each element on the card to over 180 different color options so you can make sure the card is exactly how you want it, down to the littlest detail.
Custom Samples
Basic Invite allows customers the ability to order a printed sample of their actual invitation so they can see exactly how it will print as well as the paper quality before they ever have to place their final order.
Over 40 Different Colors of Envelopes
Basic Invite is just as colorful with their envelopes as they are with their invitations. Customers can choose from over 40 different colors when it comes to their envelopes so that they can make their invitation stand out even before it is opened. All of their envelopes are peel and seal so the envelopes can be quickly and securely closed.
Address Capturing Service
Basic Invite offers an address capturing service that allows customers to simply share a link social media to request their friends and family's addresses which will be stored in the customer's account and can then be selected during the design process. Basic Invite offers recipient address printing at no cost on all Christmas card orders.
Foil
Foil cards are available in gold, silver, and rose gold. Customers can choose flat or raised foil on all of Basic Invite's foil designs.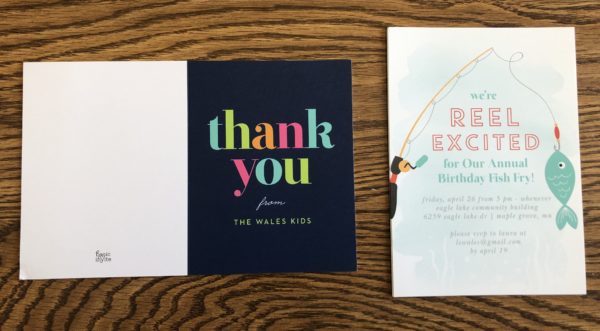 My Basic Invite Experience
I don't have a baby shower to throw at the moment, so I decided to make birthday party invitations for my kids' joint birthday party in April instead. I also made a few thank you cards for them to send to friends and family who give them birthday gifts.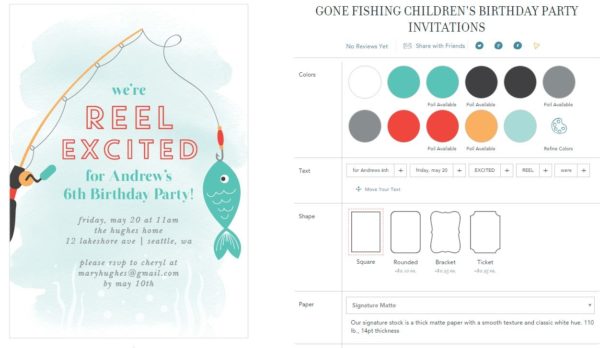 I found the process very easy and fun! You can choose from a huge variety of themes, but I chose fishing because we usually have a fish fry for the kids' birthday (my husband is an avid fisherman). You can also add a photo and/or opt for a folded invitation versus a flat one.
I couldn't believe how many options I had as I went through the process! Not only could I completely change the template colors, I could also tweak so much of the text and even adjust the shape of the invitation as well as the paper it's printed on!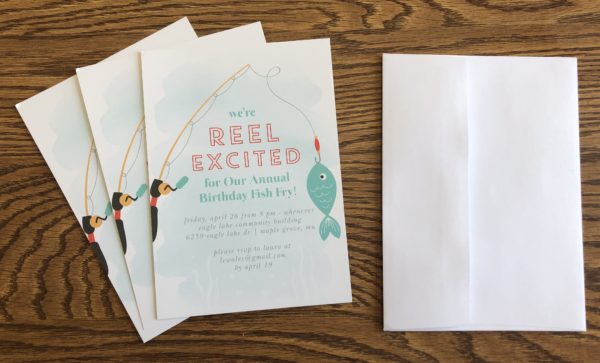 I was very happy with the end result and can't wait to send these out to friends and family!
Basic Invite Special Offer
For a limited time, you can save 15% at Basic Invite! Just use the coupon code 15FF51 at checkout to get your savings. Head to BasicInvite.com to get started!