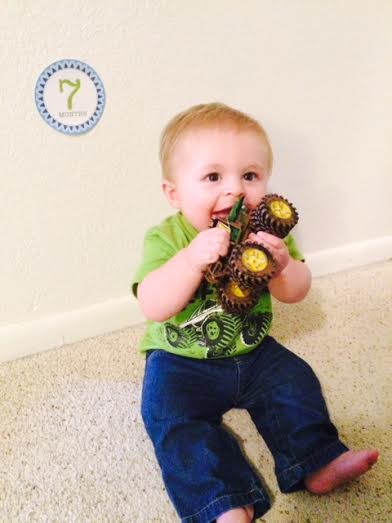 Clay is officially 7 months old as of the 20th! My oh my where has the last 7 months gone?!?! I can't believe he is growing so fast, you always hear parents say how quick they grow, that is no joke!!! I thought it would be fun to share what is new with him!
He is loving trying out new baby foods right now! He loves the sweet potato, green beans, apple/blueberry mix!
He is officially crawling, which is craziness to me!!
He loves to talk or I should say try, sometimes you can hear words but they say they aren't official words yet.
Clay loves to smile, but he is so shy around people, it takes a little bit of time to warm up, but once he does he is good to go!
He absolutely loves being outside, whether it is swinging or going for a walk! If it is outside he loves it! 
One of his favorite toys is his Baby Einstein Jumper and his dog Scout From Leap Frog!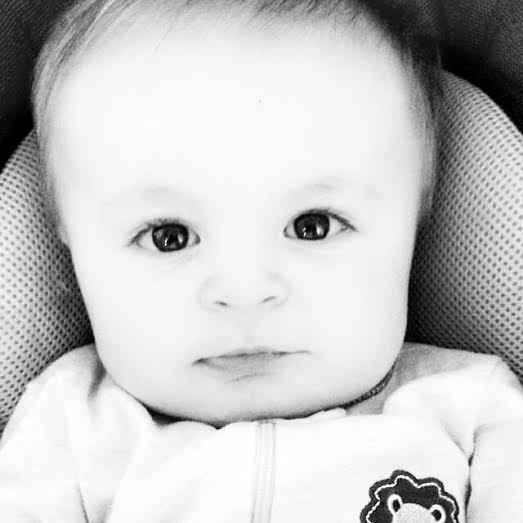 At his 6 month appointment he weighed 18 pounds 6 ounces, so he is a little over 19 pounds now. He is growing really well and in all the ranges of growth and weight! We are so very thankful for this little guy and we can't wait to see what the next month brings on the new milestones he will reach!
I am beginning to think I need to start planning his birthday really soon!! It is coming up so quickly! Thanks for taking the time to come see what he has been up to!