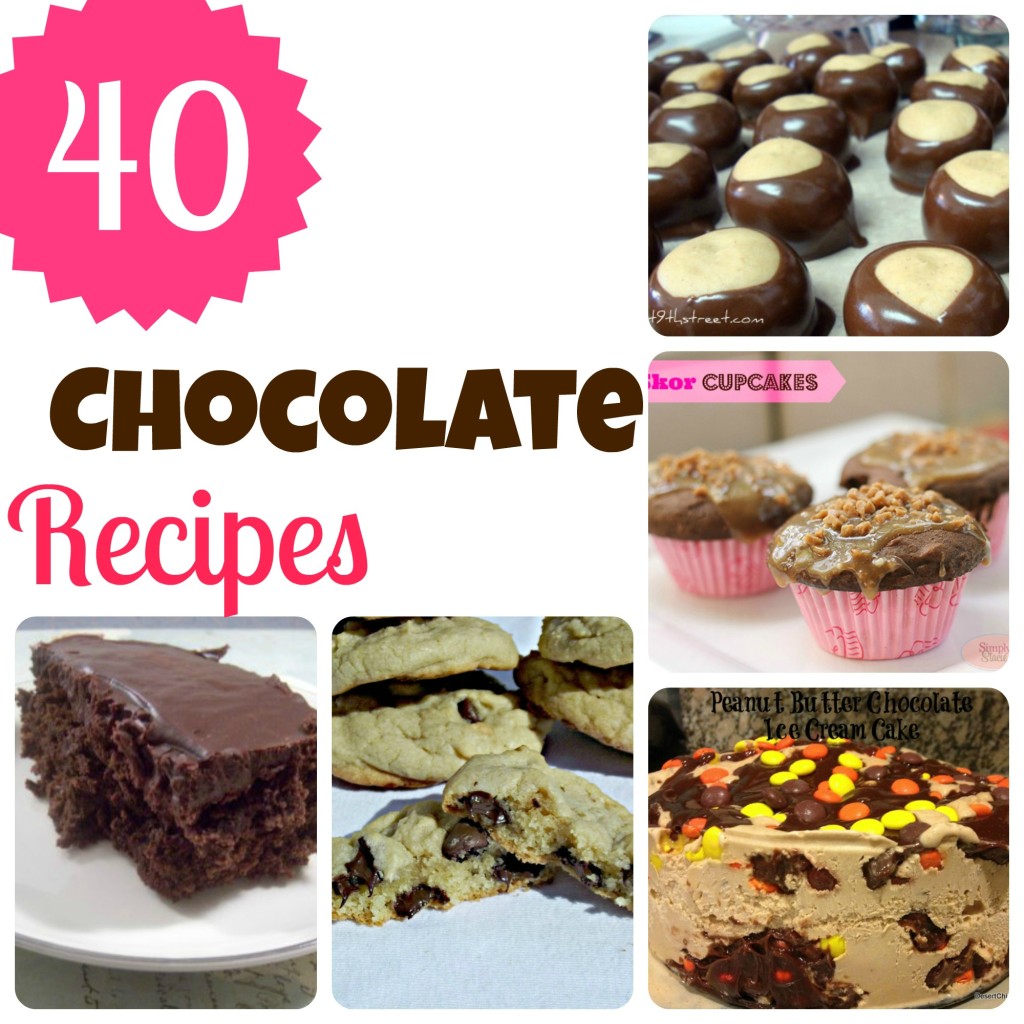 If you are a fan of chocolate like me, then this post was made for you!! It is filled with recipes that use chocolate in them, from cakes to drinks, it is chocolate overload!  I rounded up 40 chocolate recipes from all over the web and compiled them into one list to make it easy!!
Cakes- Cupcakes –Pies
__________________________________________
Flourless Chocolate and Red Wine Torte
Low-Calorie Dessert: Orange Cake Recipe
Chocolate Chip Cheesecake Cupcakes 
Cupcakes With Chocolate Chip Cookie 
Super Easy S'mores Cupcakes – No Frosting Needed
Peanut Butter Chocolate Ice Cream Cake
Pumpkin Chocolate Chip Muffins
Cookies– Bars — Brownies
_____________________________________________
Single Serve Chocolate Chip Cookie  (Microwave in Mug) 
Chocolate Chip and Almond Flax Cookies
 Whole Grain Chocolate Cookies (Healthy)
Healthier Desserts – Chocolate Coconut Bars Recipe
Maple Walnut No-Bake Cookies (Gluten Free)
Dark Chocolate Brownies with Chocolate Mousse Frosting
Soft and Chewy Chocolate Chip Cookies 
Miscellaneous
_________________________________________
Chocolate Covered Apple Pumpkin Donuts (Grain Free) 
 Granola Bars with Honey Bunches of Oats Greek Honey Crunch  
Coffee House Chocolate Strawberry Parfait 
Chocolate Mousse Trifle Recipe Made with Chocolate Wine
Chocolate Chip Cookie Dough Frozen Yogurt
Dark Chocolate Orange Pudding (Vegan)
Grandma's Chocolate Scotcharoo's

I hope you all enjoyed these recipes, it should keep you busy for awhile :-)! I know I will have fun making some of these yummy looking recipes!!!