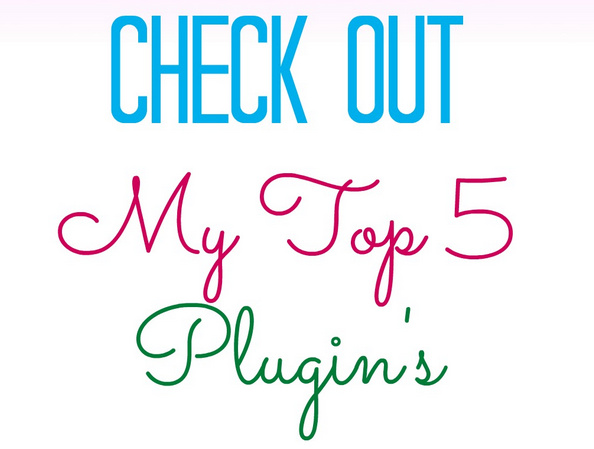 When I first started blogging, I started on blogger. There were no plugin's and such to make life easier, and you couldn't customize your site like I can now! So, when I moved to WordPress (self-hosted) I started reading blogs that shared plugin's they enjoyed as well as searching the plugin options to see some jem's I could find as well to make my life easier!!
So here are my top 5 plugins that I use and really love. I hope you guys will enjoy them as well if you decide to use them! All of the plugins I listed below are Free to use. Some have it where you can upgrade for a paid version but I always just use the free one!
1. Wordfence Security– My fear is that my site will get hacked and I will never be able to get back in. I have read some horror stories and I am praying that never happens for me. Wordfence  scans your site for viruses, malware, trojans, malicious links, protects your site against scrapers, aggressive robots, fake Googlebots, protects against brute force attacks and much much more. It works great for me, and I can see who is trying to log-in to my account, and I can then go permanently block the IP Address! It is pretty easy to navigate and sadly I get tons of people trying to hack, so it is nice to feel I have some power in protecting myself!
2. WordPress SEO –  I am SO thankful I was told that this is a great plugin to have on your site.  It incorporates everything from a snippet preview and page analysis functionality that helps you optimize your pages content, images titles, meta descriptions and more to XML sitemaps, and loads of optimization options in between! I use this to ensure I get the green colored button that shows my post is good to go. It will tell you want you need to change on your title, keyword and such so that it all flows how it should. It took me a little while to learn how to use it, but after I did, I have been good to go since! I really love this plugin! I don't know a ton about SEO, but with this plugin it helps me to ensure my post are SEO-Friendly!
3. Easy Noindex And Nofollow– I participate in product reviews, paid campaigns and such on my site often. So, if you are familiar with that you know that they have to be no-follow to comply with Google. So this plugin works great, with a click of a button I can no-index and/or no-follow a whole post or just the link! If you choose noindex your post won't be indexed by Google. And nofollow options if you don't want any link in the post be followed by Google.
4. CommentLuv– This is a very basic one, but I still love it! With this plugin you can give something back to your community straight away by including a titled link for their last blog post or tweet on the end of their comment. So there is a form down at the bottom of where you comment and you just put your blog url in, and it will grab your latest blog post that way it can help drive traffic to your site! I do this, because I love getting comments and if they have a website, I have no problem allowing them to possibly gain traffic. I love other blogs who have CommentLuv as well. I have gained some traffic from having a link in a blog!!
5. ZipList Recipe Plugin- I actually just found this plugin just awhile back, so I am still trying to update the recipes I already have on my site.  This plugin integrates Schema.org's Recipe mark-up into your recipe posts to make them more findable by search engines. Additionally, the plugin enables your readers to add your recipes to a universal recipe box and shopping list directly from your site. I have found it makes my recipes more user-friendly. They allow you to easily put in your recipe, and submit it. It gives it a nice look on your site, allows them to print just the recipe, save it to their recipe-box, and much more. Really loving this plugin, and I can't think for sure who told me about it. But, I am so thankful they did!!
So what are your favorite plugin's you are using right now? I am always up for trying out new plugins to help make my life easier!!