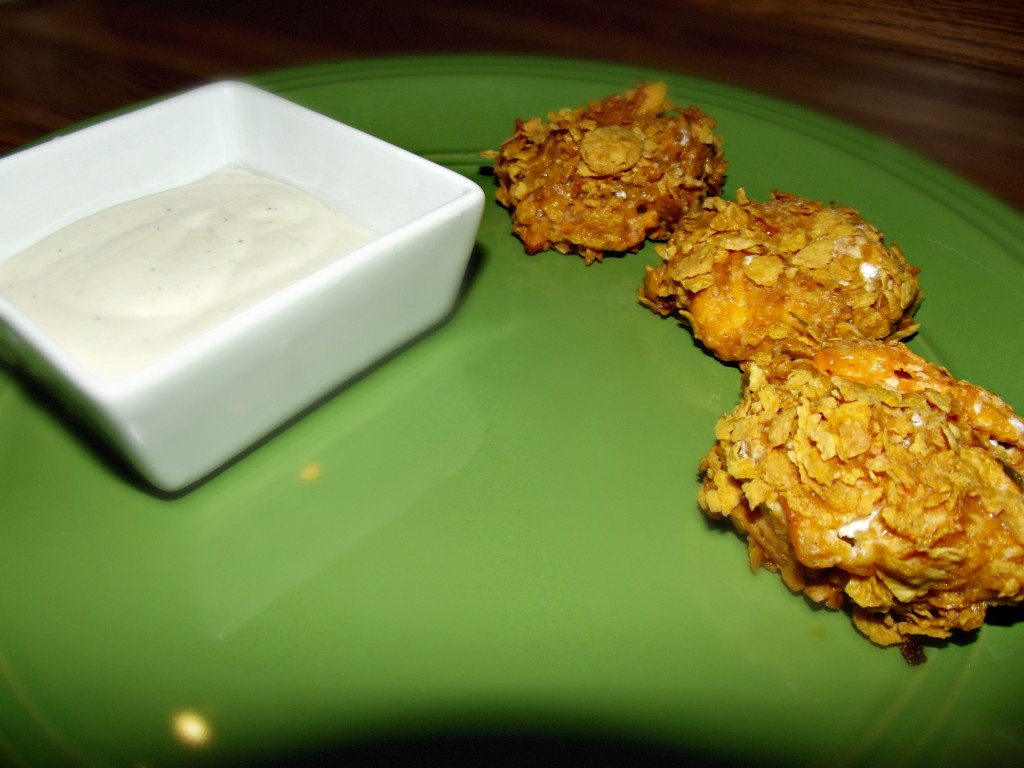 We have chicken often at home, and I am always up for trying new things. So, here is a new recipe we tried out a little while back, that I found on Pinterest of course ;-). I personally wasn't a huge fan of, but it was a bit spicy for my liking, and I don't know if I would make it again for us, but if you like hot things .. then maybe give the recipe a go. My husband said it was alright, but wasn't a huge fan of it as well. But, you never know if you will like something till you try it is my motto!
Adapted Recipe from Sweet Pea's Kitchen
Ingredients: 
3 cups shredded cooked chicken
1/4 cup hot wing sauce
3   ounces cream cheese  (softened)
1 3/4 cups sharp shredded cheddar cheese
1/4 cup chopped green onions
1 cup all-purpose flour
3eggs, lightly beaten
4 cups Corn Flakes cereal(crushed)
How to Make: 
Start by preheating the oven to 350 degree's.
In a large bowl mix your chicken, cream cheese, hot sauce, cheddar cheese and onions. Once well mixed, roll into small balls, once you have all the balls made then comes time to dip them.
You will want flour in one bowl, beaten eggs in the next, and in the last the crushed corn flakes.
You will take one of the balls, dip in the flour, then egg, and last the cornflakes. Place each ball on a baking sheet, and once done bake for 20-25 minutes.
Once done serve with ranch or blue cheese dressing!