Bluebee Pals Just Made Learning and Play That Much More Fun! 
I received this Bluebee Pal as a promotional item. This is not a sponsored review. All opinions are 100% my own. 

Have I got something to share with you all today! It is the Bluebee Pals Bluetooth Enabled Interactive Plush for kids! We recently got Riley the Zebra (which is one of five of the plushes) and Clay is loving him! Bluebee Pals moves its mouth as it talks, sings, and reads to your child! What is so neat is you turn your Bluebee Pal on and connect to bluetooth on your phone, tablet or latptop, and watch the magic begin! You can even have someone call and have it on speaker phone, and the Bluebee Pal will move its lips when they talk! It is really cool.
In the manual it comes with, they share some apps you can download that work great your the pal of your choice! You can listen to music from your music library or stream it, have fun with learning apps, and all the time you do your pal with lip synchronize which is so fun!
Bluebee Pals – Talking * Educational * Learning Toy
Here is a quick video I did, I wanted to kind of show you Riley our Zebra in action. You can view the video by clicking here if you can't see it above.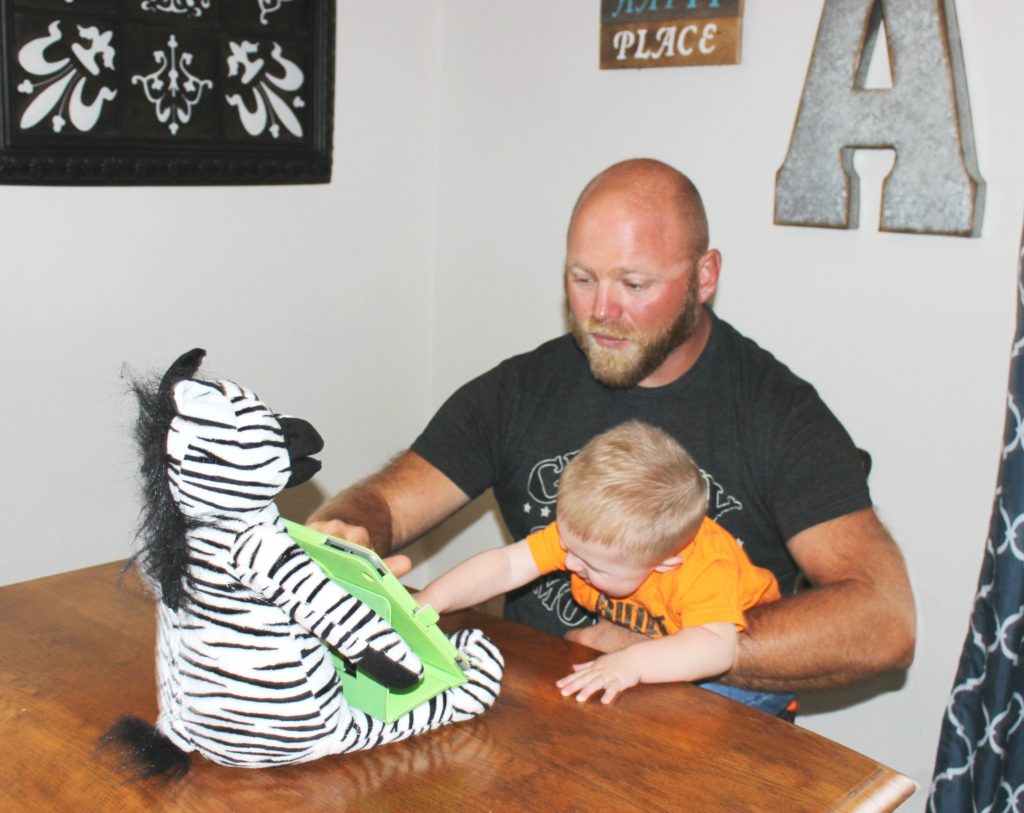 This educational toy truly makes learning fun! The age range for this is ages 3-8, Clay is obviously a little young, but we have so many nieces and nephews I thought this could be really fun for them to come and play with when they stop by! Plus Clay can do some things with it now, with our help.
 Bluebee Pal Pro Bear
 Bluebee Pal Pro The Lion
 Bluebee Pal Pro The Puppy
 Bluebee Pal Pro The Zebra
 Bluebee Pal Pro Lily The Lamb
&
SHOP:
 It does have a rechargeable battery with USB micro-charged cable is that is included. Comes in five animal styles: Riley the Zebra, Sammy the Bear, Hudson the Puppy, Lily the Lamb, and Leo the Lion. For ages 3-8, each is $64.99 and available at www.BluebeePals.com, or online at Target, Walmart or Amazon. Bluebee Pals have won seven notable industry awards, including the coveted Teachers' Choice Awards that honor exceptional quality and outstanding performance in the classroom and at home.
 GIVEAWAY: 
1 Lucky Reader will Win their choice on a Bluebee Pet! This giveaway is open to US residents only, and will end on 9/30 at 11:59 p.m. Est. I will choose the winner using Rafflecopter, which draws a winner at random. I will contact you via email, and you will have 48 hours to respond with your contact information or I will then choose a new winner. ChicnSavvy Review's is not responsible for prize fulfillment if the sponsor fails to ship prize. Allow 6-8 weeks for prize delivery.