I am a member of the Collective Bias® Social Fabric® Community. This shop has been compensated as part of a social shopper insights study for Collective Bias and their client.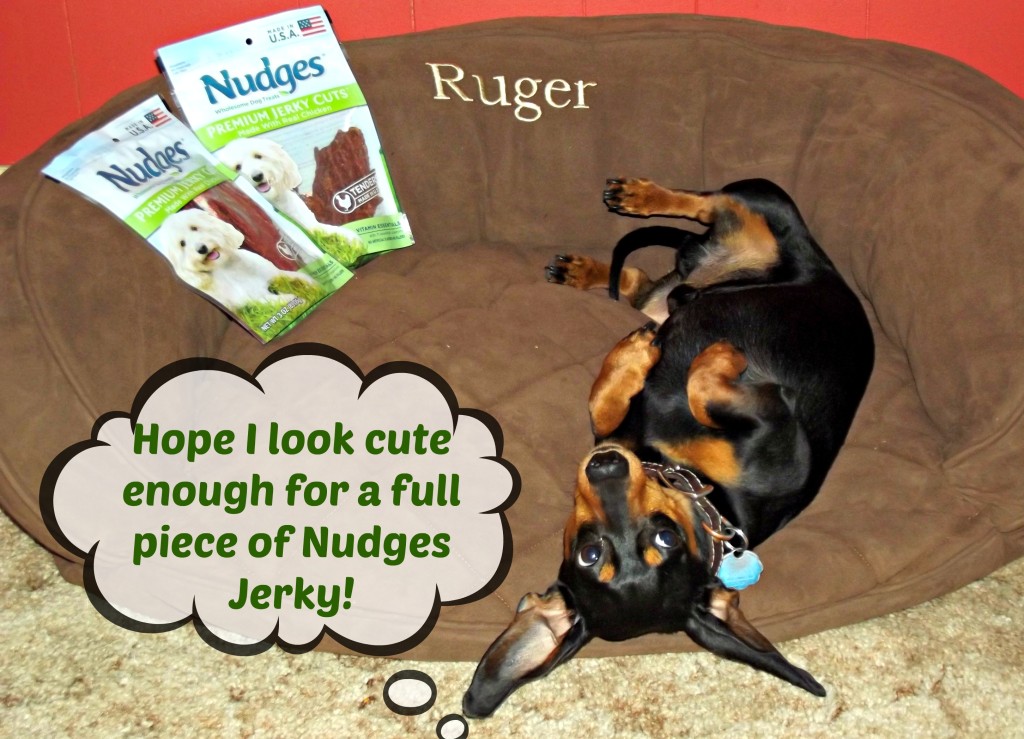 Our little Ruger is so full of personality! As you can see in this picture he thinks laying on his back and giving us the puppy dog look will score him a Full piece of  Nudges Premium Jerky Cuts! If there is one thing you need to know about Ruger is, he love his treats, and jerky is top of the list! In his world these are the best dog treats on the market! Plus we like them because they are a healthy dog treat!
You know how some people love their pets like children, well I am one of those people! We don't have any kids, so I spoil Ruger and treat him like a child. He has such a loving heart and he is just too cute to say no too right?!
With the 4th of July right around the corner, I wanted to share some tips on keeping your four legged friends safe. Did you know that the 4th of July is the largest day for dogs to run away due to being scared and overwhelmed?? I would believe it,  Ruger gets scared and pretty jumpy when they start shooting off fireworks around town! We make sure to give him some extra attention and TLC to help relax him!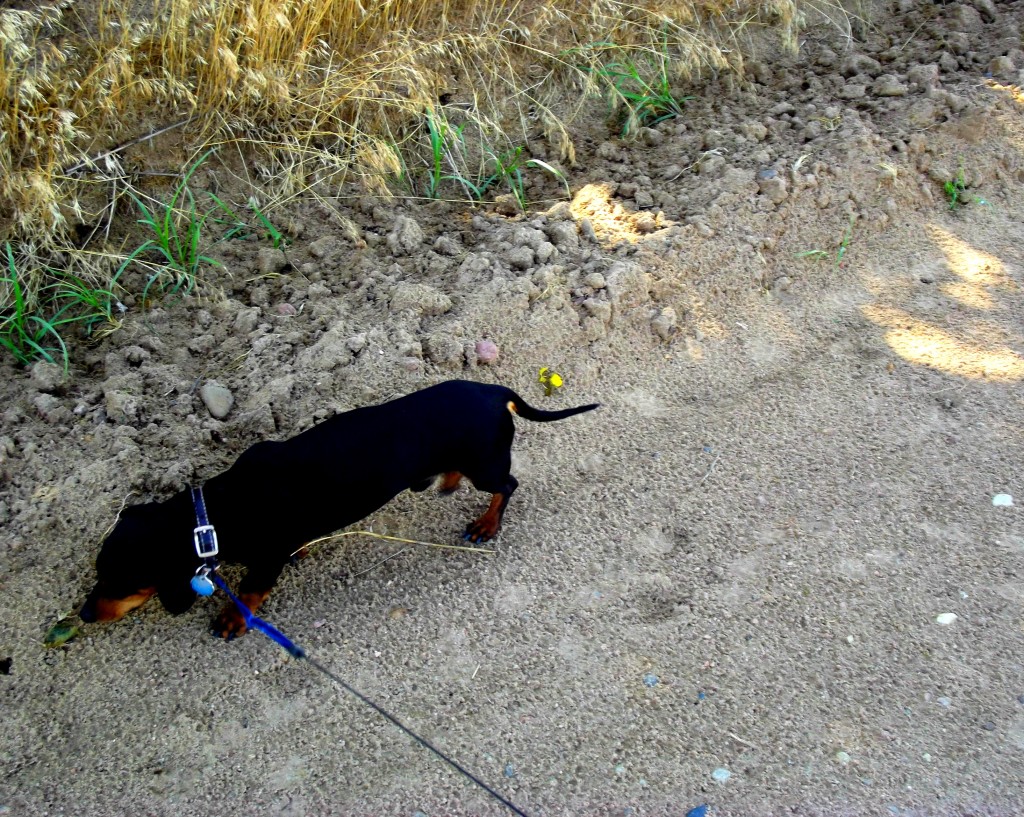 So if you have a pet and want to do your best to keep them safe, then read these tips! 
1. Keep Pets Inside– I know not all pet owners keep pets inside. But if you can it would help during the days when your town is shooting off fireworks. I worry as we live close to our neighbors and numerous fireworks have ended up in our back yard. You don't want your dog to be outside and get hit by one flying through the air. Or if you have a playful dog they could run and try and get it thinking it is a toy.  Granted if you can't leave your pets inside make sure to leave lots of cool water and food outside, with shade for them to lay in. As it is super hot and you don't want them to overheat!
2. Take them for a walk – Allowing them to get out and get some fresh air, exercise and burn of some of their energy! I took Ruger out into the country and walked with him for awhile on a dirt road. He loves to investigate everything and since he is an inside dog it helps burn off some energy!
3. Close your Windows and Doors- Make sure that during the time the fireworks are going off your windows and doors are shut. You don't want your dog jumping out or running through the screen door. I know that may sound odd but I once had a dog, Diamond, who jumped out of the window. I don't know how she did it, but got spooked and out she went!
4. Give your Dog some Special TLC – For us we like to give Ruger some extra attention during the week of people shooting off fireworks. It helps keep him occupied and busy so he isn't a ball of nerves constantly!! Plus he loves his treats, so he gets a bit spoiled!
We always make sure when we buy dog treats made in the USA. I have heard way to many horror stories of pets getting sick when you buy treats that are made out of the USA. My husband's grandpa used to be a vet, so luckily my husband is very aware of  how to take good care of your pets! We make sure to buy quality food and treats! Nudges Premium Jerky Cuts  ismade with Real chicken, and has 11 essential vitamins, and they do not contain fillers, or artificial flavors!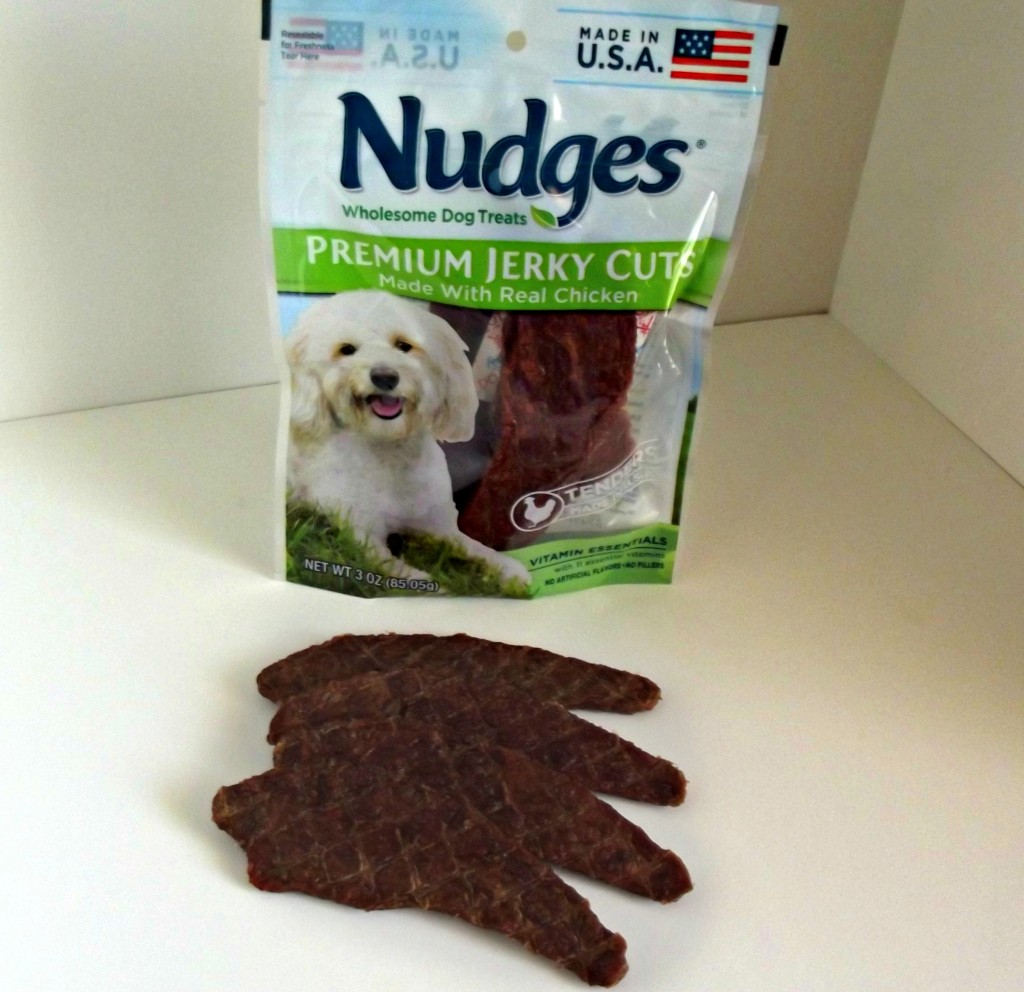 As you can see in this picture the quality of the jerky looks exceptional! I love that they are nice big pieces! You can tear it easily to give your pet whatever size you desire depending on their size. When I opened the package I was amazed at how good it smelled!  I have ran into treats that smelled horrible, and I thought how could that taste good when it smells like that?! I was very impressed with the quality and I know our little doggy loved it, and kept begging for more!  Plus it is a healthy dog treat option.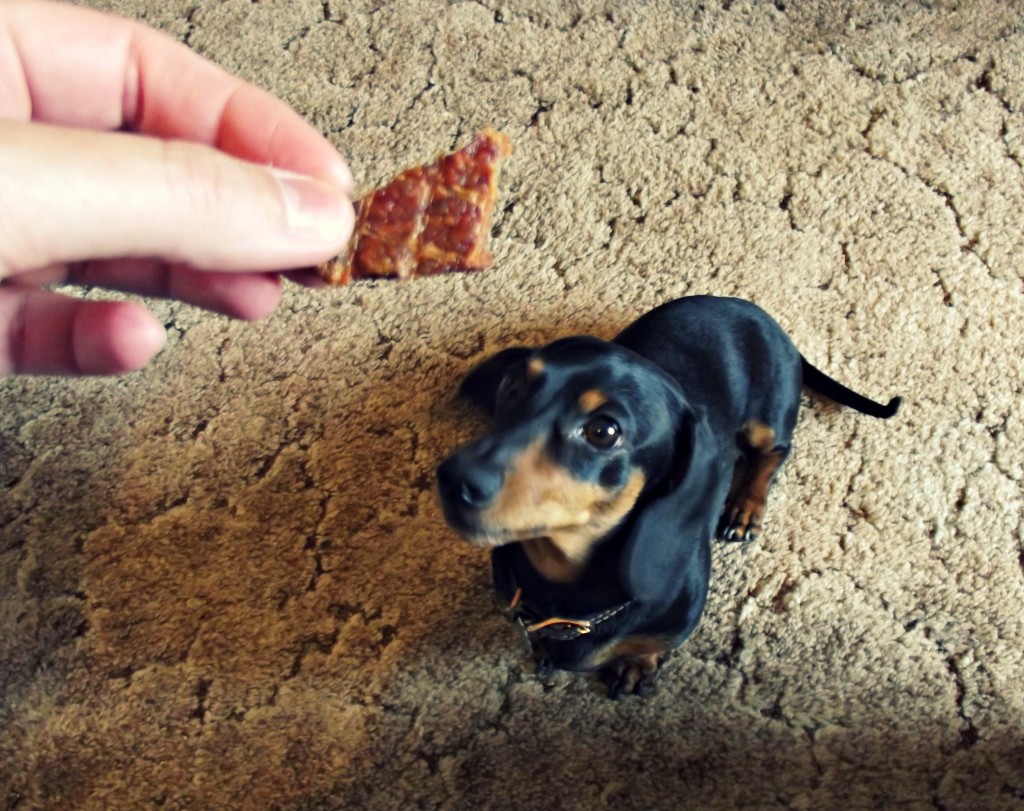 All I have to say is, "Ruger you want a treat" he perks up and runs to the kitchen where the bag is! Plus if you want to see my trip to Walmart when I bought these, check it out on my Google + Page! 
I hope the tips I shared help keep your dog safe during the 4th of July celebrations!! Plus pick up some of the Nudges Jerky treats for your dog, I am sure they will love it to pieces!!  You can buy Nudges at most mass retailers!!
Plus there will be a Twitter Party with Nudges on July 3rd 1-2 EST regarding pet safety during the summer, especially the 4th of July, and how you "nudge" your pup back 🙂  You can RSVP here, and hope to see ya there!
Also if you have some time, check out the Live SoFab Summer Digital Magazine to get great ideas for summer! It shares tips for summer, trends happening, plus read more about Nudges! It is a fun magazine that I think you guys would enjoy!!