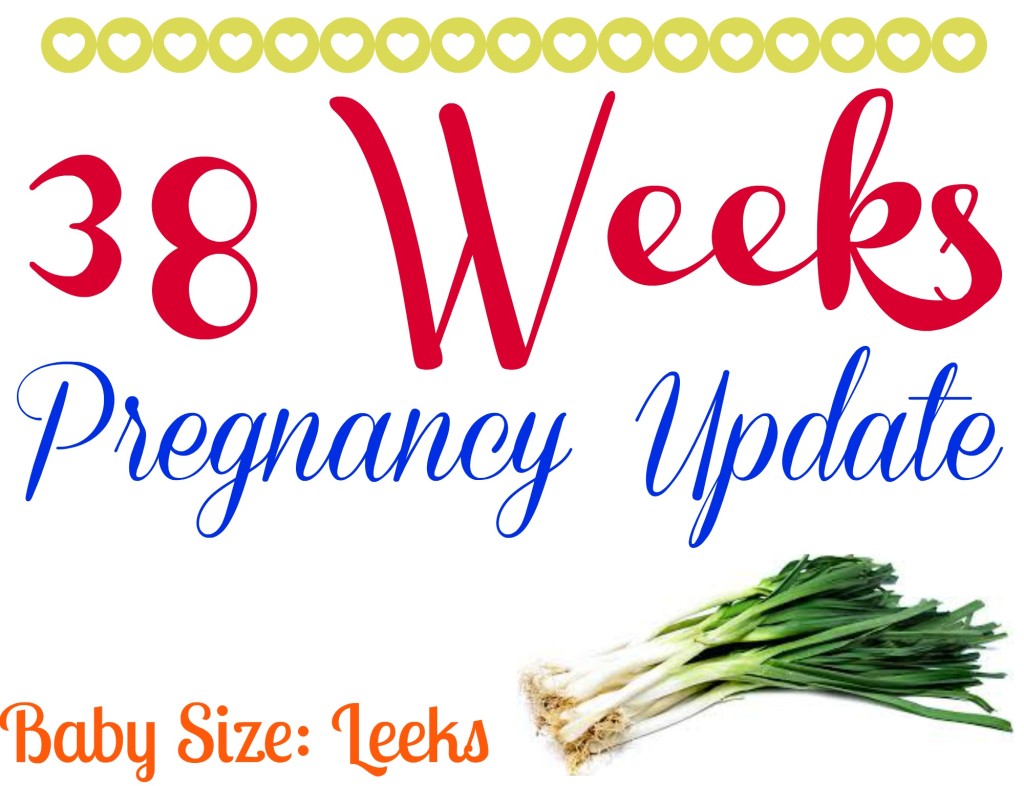 I can't believe I am officially 38 weeks! We are getting so very close to meeting our little guy, and I am so ready! Or at least I think I am, haha! I know babies take so much work, and being a first time mom and dad we have to learn how to do things! The best advice I have received, is every parent is once a first time mom or dad, you learn as you go, no one knows it all in the beginning! When I was told that, I loved it instantly! They are so right, so I can't worry about things I don't know, and just go with the flow and do the best I can!
So here is my 38 weeks pregnancy update, I hope you all have enjoyed this journey we are on! I can't wait to share pictures of our little guy when he decides to enter the world!
What happened at Last Dr. Appointment: At my last appointment I got checked and I was dilated to 2 cm and 60% effaced. I ended up getting a flu shot as well (first time ever) to try and keep me healthy the last few weeks and through winter to hopefully keep him safe from getting it. We talked about getting induced, and at this time we are going to hopefully go into labor on our own. If you induce before your body is ready he said there is a 60% chance of getting a c-section, if you go in on your own you only have a 5% chance. But, if I start to go over-due then at that time we need to induce, because it can be harmful to the baby. So, I go Monday to get checked again to see if I have progressed and to ensure he is still doing good!
Size of Baby: This week he is the size of leeks! When I had my ultrasound a few weeks back it showed he already weighed 7lbs 4 oz, but they did say that can be off by a whole pound up or down. They say the farther you get the harder it is to truly know his size. Either way he has been measuring ahead this whole time, so it was good to still see he is on track!
Movement: This little guy loves to wiggle and move around. He has certain times during the day where he is more active than others. If I am up through the night he tends to be up moving around then.
Body and Changes: My belly has dropped, and I am feeling him a lot lower. My hips and pelvic area have been extra tender, and I for sure have been waddling around a ton! I have been getting a lot of cramping and braxton hicks. It has been a rough few weeks for sure, I am just exhausted and not feeling well. I have been getting super nauseated, having major heart burn, not sleeping, and in pain a lot. BUT I know I am so close to being done and soon it will all be over!
Sleep: It depends on the day. Some nights I sleep pretty good and other nights I have insomnia and will be up most of the night. I just never know how that day will go. Taking naps is something I am not good at, I try but can't ever get to sleep. I just lay there, or get text or phone calls keeping me from sleeping. I have had a few successful days though and those days are nice!
Emotions: Oh boy this has been and up and down event. Some days I just feel super emotional from the moment I wake up! The other day for my appointment I was just a mess, I was having a really hard day, and was super emotional. With all my hormones changing and getting so close they say it is normal to have more extreme emotions. I am really feeling it the past week!
Morning Sickness: It has come back hard core. It never fully went away for me, I have been sick this whole pregnancy, but it had let up some. Now it feels like it did when I was first pregnant, which is hard! You just feel so sick and nauseated non-stop from morning till night some days. I am doing a lot of lounging on the couch for sure, and sipping on ginger ale to help!
Cravings: Anything pumpkin, pumpkin pie, pumpkin ice cream, pumpkin, pumpkin, and more pumpkin! I also am loving Apple Cider, Nacho Cheese Bugles, and back to wanting a lot of meat and cheese!
What I Miss: I miss being able to being able to get around normal. I am just hurting and slow at getting around. Thinking of doing a lot of walking some days about makes me want to cry. My body just hurts.
What I Am Looking Forward To: Just being a little family! After this long wait for him over the past nine months, I am just ready to finally meet him and start becoming a family and living life all together doing regular daily things! I can't wait to hold and love on him! We are more than excited for this new chapter to start!
Next Doctor Appointment: October 12th!