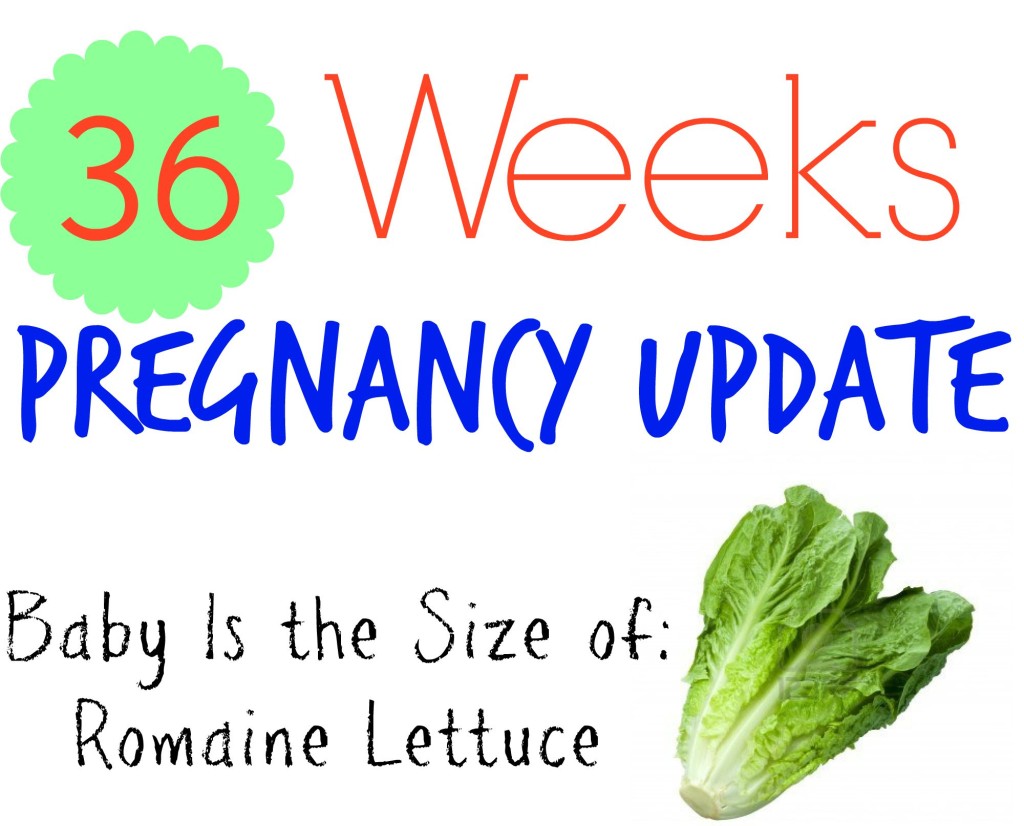 Woohoo, we are getting closer everyday to meeting lil Baby Clay! My sister-in-law and brother-in-law just had their little girl earlier this week, Sterling, and she is beyond precious! It made it that much more real holding her, knowing that in a month or less that will be us holding our little boy!
Not a ton has changed over the past few weeks, but a few new cravings, of course my belly size has grown! Here is my 36 weeks pregnancy update for you all! Thank you for following my journey, and I can't wait to share pictures of our little guy once he arrives.
Size of Baby: Little guy is the size of romaine lettuce this week. He is still packing on the pounds at a rate of an ounce a day! He should be weighing around 6lbs and is 18 1/2 inches long or so, from what I have read on the baby app!
Movement: He is moving around a good amount. Some days I think he is a bit more tired so the movement is less. You can tell he has grown over the past few weeks by how strong he is moving around in there!
Body and Changes: Energy level is low, they are not kidding when they say third trimester really wears on your body! Belly is growing bigger, and I am pretty sure he has dropped. I noticed my belly has been a bit lower than normal. I asked my sister and husband and they agree. I feel him a lot lower, so I am wondering if he is engaged or not. I am excited to get my ultrasound next week to find out more. I will get my cervix checked for the first time, so I am anxious to hear if I have dilated or effaced at all. I also have a lot of aches and pains in my stomach and pelvic area. I am moving a bit slower these days!
Sleep: It has been a bit of a struggle. I tend to take forever to finally get to sleep, and when I do I am up multiple times going to the bathroom through the night. When I do actually get to sleep, I sleep decent. I wake up when I move just cause my hips and pelvic area hurt a lot.
Emotions: They are hit and miss. Coming up so close to our due date, I find myself thinking about becoming a mom. It is crazy to imagine what our lives will be like, we are very excited to meet him. I get nervous hoping he is perfect and has no troubles once he enters this world. I know he has the two vessel cord and there are complications that could happen, so I just pray he is okay and healthy!
Morning Sickness: Still going on, unfortunately! I have found the past few weeks I have become more nauseated here and there, so that is a bit sad. I have dealt with morning sickness the whole pregnancy, it would have been nice for it to finally go away.
Cravings: Chocolate milk, which is weird cause I am not a big milk fan. Apples is a new one this week as well. I bought some today to munch on. Lastly sausage, I have been craving it a lot. Normally I don't eat it very often but I just want it all the time!
What I Miss: Not hurting all the time. Just thinking of walking to get groceries or shop is a major task. I am very slow at moving around, I just have a lot of aches and pains. You get so wore out, in such a little time.
What I Am Looking Forward To: Having Clay here, and just enjoying our little family. I can't wait to do our first family pictures with our little guy. I have dreamed of that for a long time! I am so excited for the day to arrive for him to be here, get to see who he looks like, learn his sweet personality and give him lots of hugs and kisses!
Next Doctor Appointment: September 29th. I have an ultrasound first then doctors appointment right after!