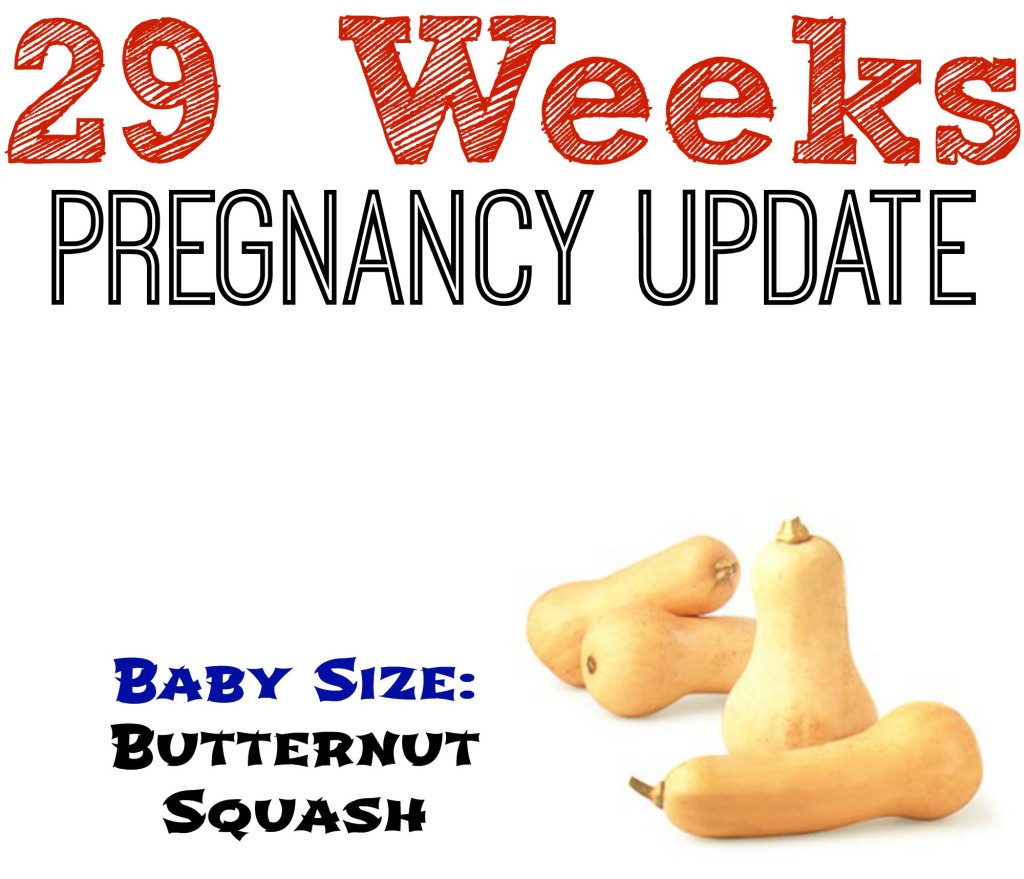 What a crazy week this has been. I have had some busy days and days where I didn't feel that great. But, I know each day we are getting closer and closer for Clay to get here. I can't wait to meet him, cuddle and love on him! I never knew I would love someone so much before I have even met them! It is such an incredible journey, so I am excited for October to get here!
So here is my 29 week pregnancy update, for you to check it out if you have been following my journey! I would love to hear about your pregnancy journey as well!
Size of Baby: Clay is the length of a butternut squash! Over the next 3 months he is going to be going through a major growth spurt. I read I can notice less movement as he is growing away there becomes less room in there to move around as freely!
Movement: I am still feeling him move around quite a bit. I have to be sitting back more to feel him kick around, I think due to the anterior placenta.
Body and Changes: The other day I noticed a little change in my bump size. I talked to my sister and she said that it was normal. Could be him moving into a new position. Other than that I feel I am slowly growing and gaining more weight.
Sleep: I tend to wake up a few more times through the night than I have been. Sometimes I get up around 2 am and stay up till about 4:45 when Adam gets up for work. Then I normally can get to sleep for a few hours.
Emotions: Depending on the day, depends on my emotions. I find getting very emotional when I think about Clay being here, and I dream of how it will be to be a mommy! Sometimes I get upset for no reason or feel like crying out of the blue! Hahha just the perk of being pregnant.
Belly Button In or Out: It is stretched pretty good but still an inny!
Morning Sickness: It is a hit and miss. Still having nausea here and there. I have had a bit of a sour stomach or burning. I am not 100% this is morning sickness or just not feeling good.
Cravings: Back to wanting cereal often, right now it is Cocoa Pebbles again. Craving carbs a lot and fruit.
What I Miss: Fitting into clothes good, I feel like my belly is at an awkward stage, so I don't feel like I look good in anything that is very tight.
What I Am Looking Forward To: Meeting our little Clay!
Next Doctor Appointment: August 10th!