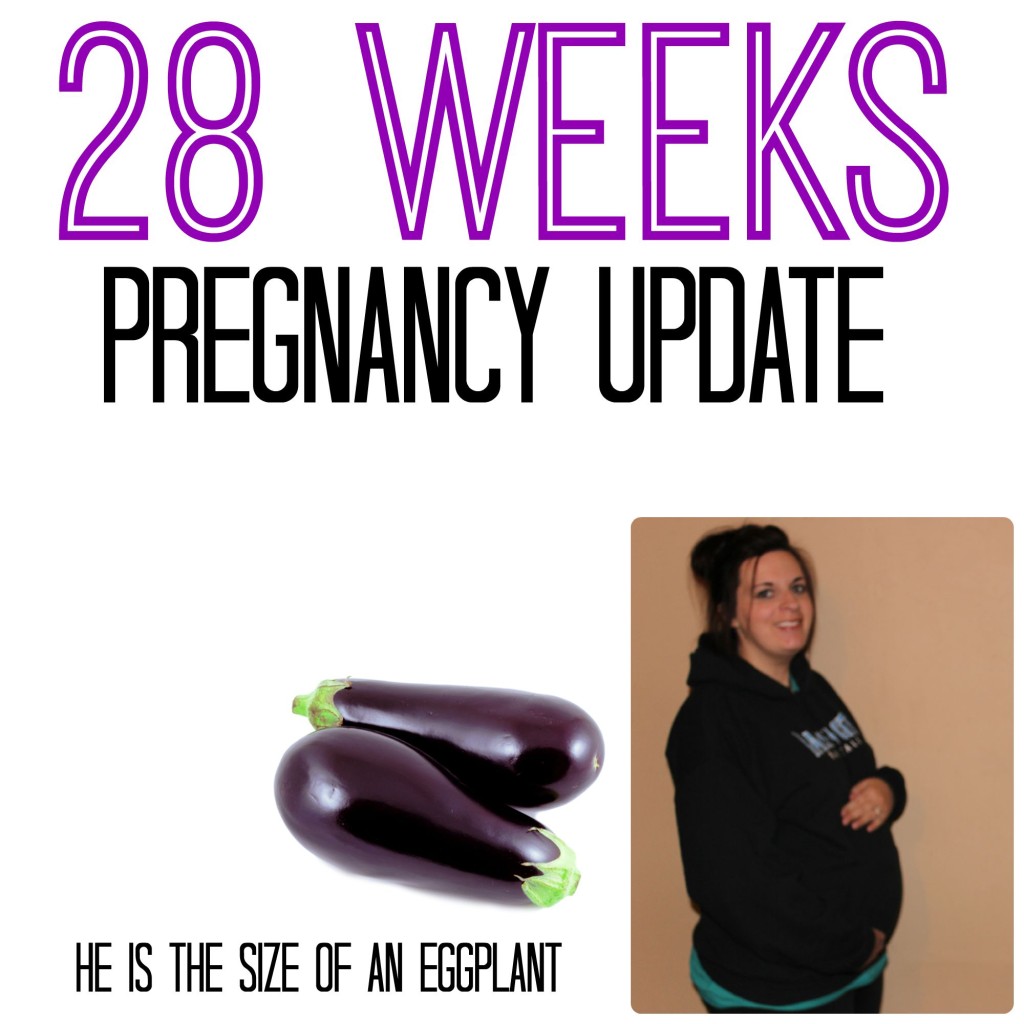 I am officially in my 3rd Trimester, YAY US!!! I can't believe we have hit the 3rd trimester, I feel like this pregnancy has flown by! We had my 28 week sonogram appointment yesterday, everything looks really good, he is growing really good, and everything is measuring good, and he is healthy! He weighs 2lbs 14 oz (give or take 2 oz), so that is really good, he still measures a week ahead! It was so nice getting to see him, and boy he has grown so much since our 20 week sonogram we had!
This 28 weeks pregnancy update, has really hit us quickly! We are getting closer to moving so I have that at the end of August and then we have some time to get his room ready in the new home!  Then shortly after we will bring home our little baby boy! I am so very excited for that new chapter for our lives!
Size of Baby: Clay is the length of an eggplant this week! His brain has developed more tissue and formed grooves on the surface. I read he should have more regular of a sleeping pattern. He weighs 2 lbs 14 oz, from what the sonogram showed yesterday! He is still measuring ahead, my official due date is October 22nd, but it shows from sonogram, October 11th. He can also blink his eyes, which is so neat!
Movement: What an active little guy we have, he moves around all the time! He is head down, and that shocked me, his little head and arms are pretty powerful, I thought for sure he was doing ninja moves to my bladder, but now I know it is his head and arms most likely! He will move around when you talk to him at times, which is my favorite thing!
Body and Changes: A lot more pains have started taking place lately! I have been told and read once you hit 3rd Trimester you will feel more pain. My hips and pelvic area have been hurting a lot. I feel pressure as well at times, and it hurts to get up out of bed, and move around at times. Then there are days I am feeling pretty good and not much pain at all. Exhaustion has for sure set in, I get so tired all the time! Some days are worse than others, you can tell my body is in overdrive helping to grow this little guy! Bump is still growing away, I am very blessed even through the pain to be able to experience this blessing!
Sleep: Last night was a rough one, I got up at 1 am and was up all night. I had a lot of nausea and then the feeling like I couldn't fall asleep. I have been way more tired throughout the days, so some days I just rest as much as I can.
Emotions: I find that I am doing okay for the most part. I think we all have moments where we get anxious about labor and delivery, fear the unknown, or get emotional for no reason! Some days I feel a bit down for no reason, other days I am totally fine, it is just hit and miss!
Belly Button In or Out: It is stretched pretty good but still an inny!
Morning Sickness: Still dealing with the nausea here and there. Last night like I said was a rough one, and today I am feeling it. I am just lounging on couch resting, hoping soon it goes away.
Cravings: I have some low acid Orange Juice from Minute Maid I am loving, Shredded Mini Wheats still! I am kinda getting the craving for mexican food like I did in the beginning, and a weird one is Burger King Whoppers! I am not a huge Burger King fan, so to crave them so much is odd to me!
What I Miss: Being able to shave my legs easily or bend down with ease and not hurt if I move wrong! It is a strange feeling to have to think about your body movement so much!
What I Am Looking Forward To: Meeting our little Clay! After seeing him on the sonogram, I just can't wait to meet him! Each day we fall more in love with him, I can't wait to hold him and see who he will look like!
Next Doctor Appointment: August 10th!