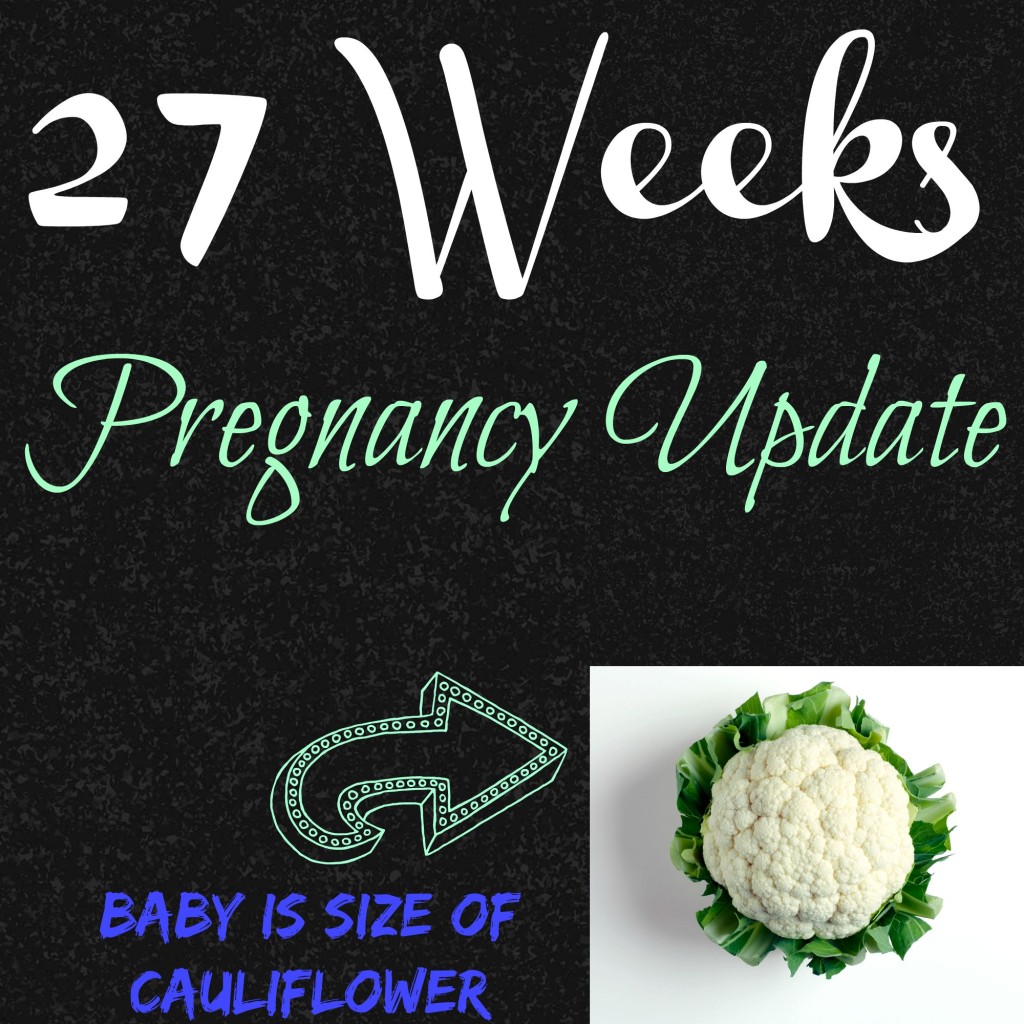 Man this week has been a bit busy! I had my Glucose Test on Tuesday to see if I have gestational diabetes, and it came back I am good to go! No gestational diabetes, which is a HUGE relief, I was so worried I had it. We have my 28 week ultrasound next Wednesday, I am looking forward to seeing Clay, and I really am praying he is growing good and healthy! My sister is going to get to go with Adam and I, so that will be fun! I can't believe it is time for me to share my 27 weeks pregnancy update, these weeks are truly flying by!
I will say the really extreme exhaustion has kicked in, man I am just tired as can be! I can't even seem to get motivated some days. It takes all I have to shower, and do daily tasks! I can't believe I am so close to the third trimester! time is just flying by!
Size of Baby: Clay is the length of a cauliflower this week! Man he is really growing in there! His immune system is becoming a lot stronger. His lungs are still practicing breathing amniotic fluid. He will start filling out a lot more in the next few weeks.
Movement: He moves around a lot, mostly in the mornings and mid-afternoons. Sometimes after dinner he will start moving around a lot. When we talk to him, it is so fun to feel him move around, it is like he is responding to us talking to him!
Body and Changes: I am growing more and more. I would have taken a picture to show you, but I couldn't build up the energy to get around for it! Terrible I know! I have starting having a lot more back pain, pelvic aches and pains, and charlie horses. As my tummy is growing the pain is starting to kick in, I heard around third trimester you will begin to have a lot more aches and pains.
Sleep: I have been really tired lately. I am sleeping a lot harder through the nights. Still waking up multiple times to go to the bathroom or having a little tummy ache. BUT I am starting to think soon I am going to take naps more. I try but can't fall asleep, despite feeling so tired.
Emotions: Doing pretty good this week, I do find I am getting a little anxious about delivery and labor portion. I find I am having more dreams about it. I have been a bit emotional here and there but we are in the process of buying a new home, a baby on the way, and life continuing so it is a lot all at once.
Belly Button In or Out: It is stretched pretty good but still an inny!
Morning Sickness: Still having moments throughout the day where I have some morning sickness! I think I am one of those women who might have some sickness through the whole pregnancy.
Cravings: Shredded Mini Wheats, is a HUGE one this past week. I can't seem to get enough of them! I am also wanting orange juice a ton, so I got the lower acid one to help my tummy and been drinking it here and there. It is SO good!
What I Miss: Feeling like I can do normal tasks and not get wore out as soon as I start. I feel like I am impaired a little bit, and can't do the things I used to. I wish I could paint and such. BUT, I know I am  growing a beautiful baby and it is All worth it!
What I Am Looking Forward To: Going to my sonogram next week. It will be so nice to see our little guy, and see how he is doing!
Next Doctor Appointment: July 29th for  sonogram, and August 10th for Doctor appointment!