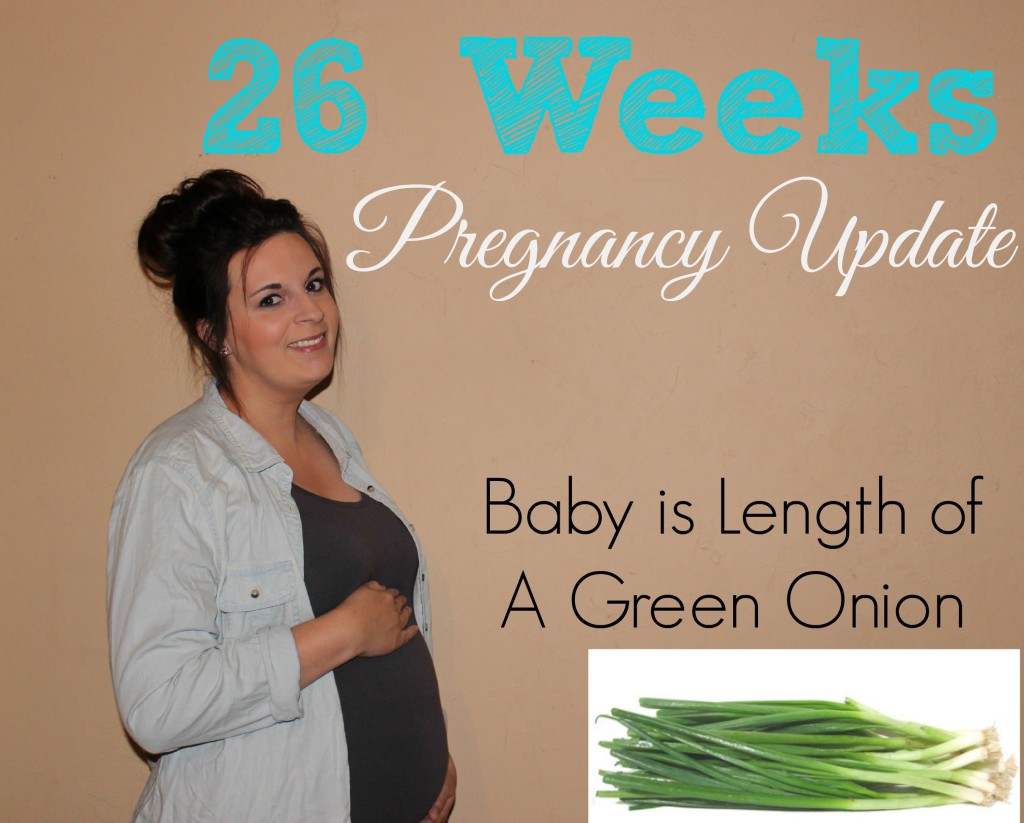 Wow another week has come and gone! I can't believe I am getting so close to 30 weeks already! I feel like this pregnancy is truly going by really fast! Each week comes and goes so fast, it is just crazy! I wanted to share my 26 weeks pregnancy update with you guys, like I do each week!
This week has been pretty busy at home. We are looking at buying a new home, and we signed the contract last night! Now today we are headed to the bank to talk to them and get testing and such rolling. August 31st is our closing date, so it is a little ways off.
It makes me nervous being so pregnant and moving then, but I am excited to have a new home for our new chapter of life. We are selling the house we live in, and buying a home in the country! Adam grew up in the country and misses it, town life isn't for him. The house we are moving to is much bigger, 22 acres of land, has 4 bedrooms, plus an office room, 1 full bath and a partial. It is really nice, and I am sure it will be our forever home! We are excited to have it ready to bring Clay home too!
Latest Doctor Appointment: I had my doctor appointment on Monday, all went pretty well. Clay's heart rate was 148, which was really good. I did find out while I was there I have an anterior placenta, where the placenta is in front of the baby, vs. behind him. They said nothing to be concerned about. I did read if it is low lying it could cause me not to dilate properly, but that is only if it is really low. I go in on the 29th to get my sonogram for my 28th weeks, to ensure Clay is growing good, since I have SUA. After that appointment we will start doing sonograms every 4 weeks! My sister asked if she could go to a sonogram with us, so she is gonna come this time. She is pretty excited to see little Clay! I can't wait to see him again, and I pray he is growing good!
Size of Baby: Clay is the length of a green onion or a hot house cucumber this week. The nerves in his ears are developing and are more sensitive than past weeks. He is able to hear our voices when we chat with each other as well. He is also starting to inhale and exhale small amounts of amniotic fluid!  He weighs approximately 1 2/3 pounds right now, how cute!!!
Movement: After hearing I had an anterior placenta, it all makes sense. Sometimes it is harder for me to feel him moving because my placenta blocks his movement. I found laying on my left side or leaning back a bit, I can feel him a lot more.
Body and Changes: My belly is getting bigger, I feel like I am plumping up everywhere. I think my chest is growing a bit more again, so I might need to go shopping for more bras again. I had to get some new tanks as my non-maternity ones were getting a little stretched around my tummy.
Sleep: Doing pretty good on sleeping. I still wake up hungry in the middle of the night or I wake up with a tummy ache. Most of the time I can go back to sleep somewhat easily. The other night I slept 11 hours, I was shocked! That is the longest I have slept in forever!
Emotions: I find I have a bit more anxiety at times lately. Getting closer to due date, has me thinking about delivery! Eeekss, you hear how painful it is, and long for first time moms so I think it is natural to get yourself worked up! I notice if I get extra hot or to hungry I tend to get a little more moody. Poor Adam, at times I think why can't I just be level on my emotions! Sometimes I want to cry for no reason, it is just a constant wheel of emotions.
Belly Button In or Out: It is stretched pretty good but still an inny!
Morning Sickness: Still struggling with nausea, but it is not NEAR as bad as what it was in the beginning. I am thankful it is not all the time, but I wish it was completely gone!
Cravings: I have really been wanting peaches a lot, banana bread, donuts, corn, crackers, and on occasion ice cream. I am still loving potatoes, and other fruits. No weird combo's yet.
What I Miss: Being able to move freely. I find if I move one way it hurts my tummy, or I get a stretching pain. It will be nice to be able to move and not have to think about every move I make.
What I Am Looking Forward To: Going in for my sonogram, I am curious to see if he is growing good, and gaining weight like he should. I can't wait to see how much he has changed on the sonogram from the last one!
Next Doctor Appointment: July 29th for  sonogram, and August 10th for Doctor appointment! Then next week I have to go do my glucose test, so I am gonna be a bit busy the next few weeks on appointments!