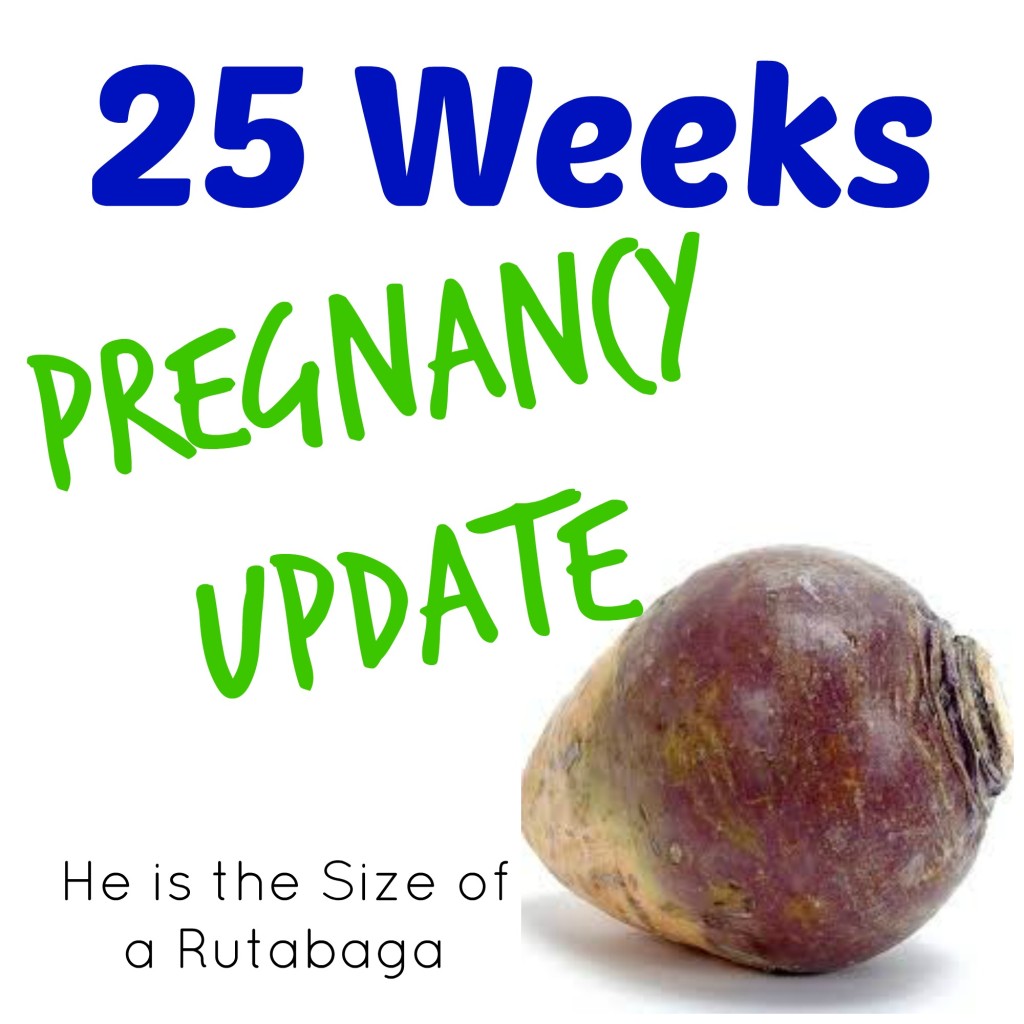 Another week has went and gone! It is so nice to be 25 weeks, getting closer and closer till he is here! We are starting to buy stuff here and there, so it is beginning to make it that much more real! It is just so crazy to think in a few months we will be holding our little guy. I can't wait to meet him and see who he looks like, learn his personality, and just cuddle on him!
Here is my 25 weeks pregnancy update, full of symptoms, how I am feeling, and more.
Size: This week Clay is the size of a Rutabaga. I had never heard of this before, it is a bit bigger than the size of a turnip! I had to look it up! I read that his hair is growing, developing color and texture as well. He is continuing to grow, and get baby fat to fill in his little wrinkled skin. They said over the next few weeks he will start to plump up.
Movement: I have read over the week of 24-26 you might feel your baby a little less. I had been experiencing that, but finally starting to feel him move more. They say week 28 you will feel him consistently, so I look forward to that.
Body and Changes: My uterus is roughly the size of a soccer ball right now. I have really felt my tummy having more stretching pains and such happening, at times I get itchy on my stomach. I have noticed I have gained a lot more weight this past couple weeks than normal, but I read that with Clay growing you tend to gain a bit more as you get further along. My nails have been growing really strong and fast. My hair isn't falling out as bad this past week which is super nice!
Sleep: Past few nights I have been waking up with a sour stomach. I just don't feel to good, and end up sitting up watching tv for awhile. I also get really hungry around 3 am, to where I have to eat or I feel like I will get sick.
Emotions: I have good and bad days with my emotions. Sometimes for no reason I just feel down or sad, other times I feel level and good, it is just a hit or miss on how I will feel.
Belly Button In or Out: It is stretched pretty good but still an inny!
Morning Sickness: I so wish I could say it is gone, but it is still here. Most days I feel pretty good for the most part, but I still have bad mornings or afternoons here and there.
Cravings: I was craving maple donuts pretty good for awhile. I have been wanting more carb type foods, and still fruit. Fruit has been one thing I have craved the whole time. I also crave cold sandwiches but I know you can't have cold lunch meat, so that makes me sad. Eggs have been one thing I have been eating more of. I have yet to crave a weird food combo, but if I do I will share!
What I Miss: Having full energy. I had been cleaning on the house and over-did it, and I realized my body is so different. I get tired a lot easier, and can't do near what I could before.
What I Am Looking Forward To: Having my 28 week sonogram, to check up on Clay. I am praying he is growing good and is healthy. I know with having SUA, their is a higher risk of him not getting the nutrients he needs, so I just pray he is perfect!
Next Doctor Appointment: July 13th!