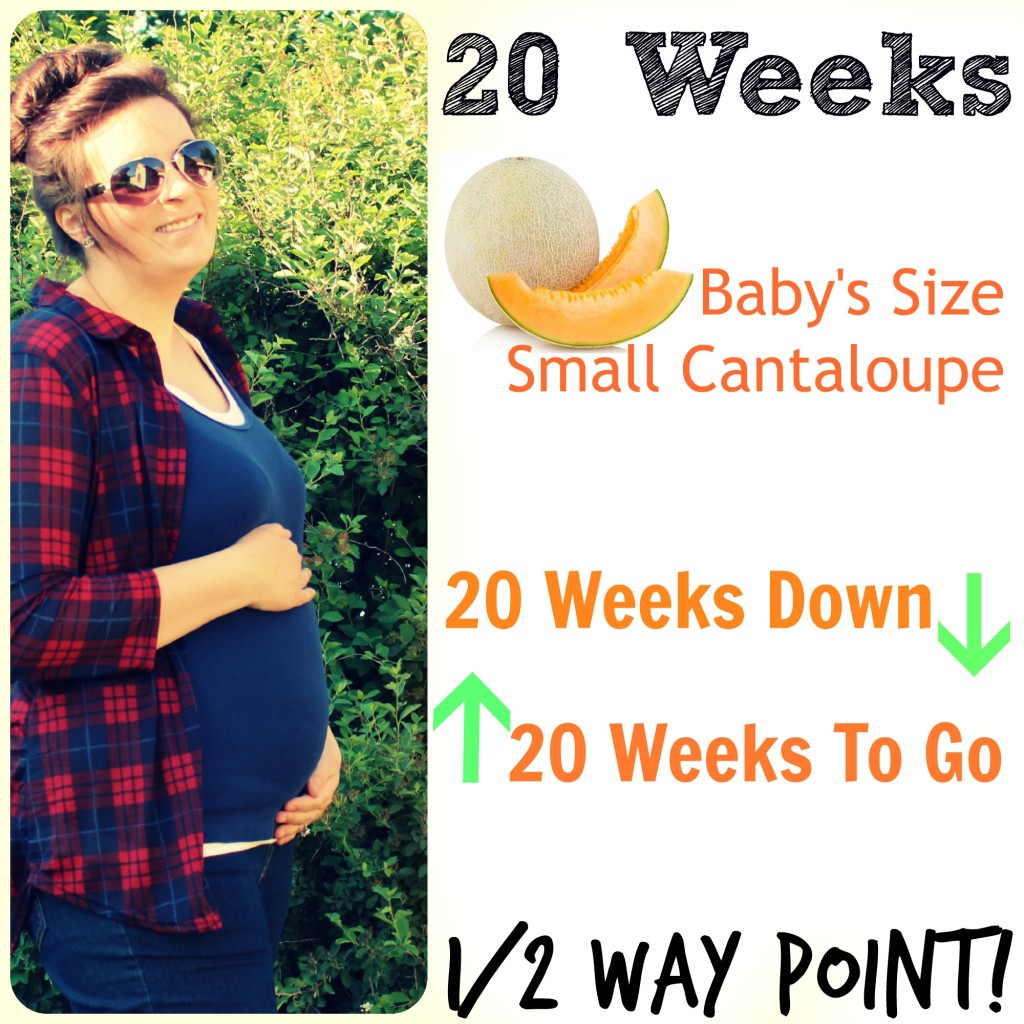 Today is such a special day! I am officially 20 weeks pregnant, which means I am at the 1/2 way point!!! Just 20 more weeks to go before we meet little baby Apley! I get emotional when I think about it, that so far I have had a pretty good pregnancy. If you don't know we lost our first baby, so this is very special to me. I watched my sister lose her two boys, and almost lost both of her girls, so I know how precious of a gift this truly is!
I am so incredibly thankful, to have this gift to be pregnant, feel the baby move around, and read about the baby growing and the development! We have our first ultrasound on Monday, and we get to find the gender! I am so over the moon excited!!! I can't wait to find out if we are having a girl or boy!!!!
So here is my 20 week pregnancy update! Squeals… I am just so excited we are 1/2 way point! Happy Dance!!
Baby Size: Baby is the size of a small cantaloupe! Baby weighs around 10.6 oz, so growing pretty good. The baby's skin is being covered with a waxy-like substance called vernix, which protects the skin from being scratched or chapped. Plus he/she is producing meconium, which results in digestion, how cool!
Movement: Feeling the baby quite a bit! I feel the baby multiple times a day just doing flips or kicking at me. The other night I got up and couldn't sleep, and the baby moved around for like 20-30 minutes straight. It was such a beautiful feeling!
Body and Changes: My bump is showing for sure now. I think my chest is growing more again! I wish I wasn't gaining weight all over my body, but I feel like I am. Oh well, I know it is part of it! My hair has been extra shiny and soft lately. But I am losing a lot of it when I shower and such!
Sleep: Sleep and I are really not seeing eye to eye. I have been waking up and unable to go back to sleep almost every night. Sometimes I am hungry, but most of the time I don't feel the best so I get up, eat a little snack and watch some tv. I wake up feeling pretty tired, but after a little breakfast I seem to wake up!
Emotions: These emotions sometimes are off the charts! I tend to be extra sensitive! If I get upset, I cry, happy I cry, it's like pull it together girl! It is just amazing how heightened your emotions are when you are pregnant. The past few weeks I have felt them become stronger for sure.
Morning Sickness: Good ol' morning sickness. It is still here making me feel sick quite a bit. I will say it isn't all day everyday. Some days I can't get much done, from just feeling nauseated. But, some days I feel pretty good and can get up and do stuff or go out. I am thankful it isn't like it was in the beginning where it was constant with no let up.
Cravings: Meat, meat, and meat. Craving protein is something I have to have! It really helps my morning sickness, and makes me feel good. So I make sure to have protein in each meal, and sometimes snacks. I am LOVING cherries, peaches, strawberries, cheese, ice cream, and potatoes again. No off the wall weird combo's of food yet!
What I Miss: Having energy to do whatever. I get wore out pretty easy, so it would be nice if I felt energized for longer!
What I Am Looking Forward To: I know might sound like a broken record, but sonogram day! I can't wait to see our baby and find out the gender!
Next Doctor Appointment: June 8th, we have a sonogram and then a doctors appointment right after.