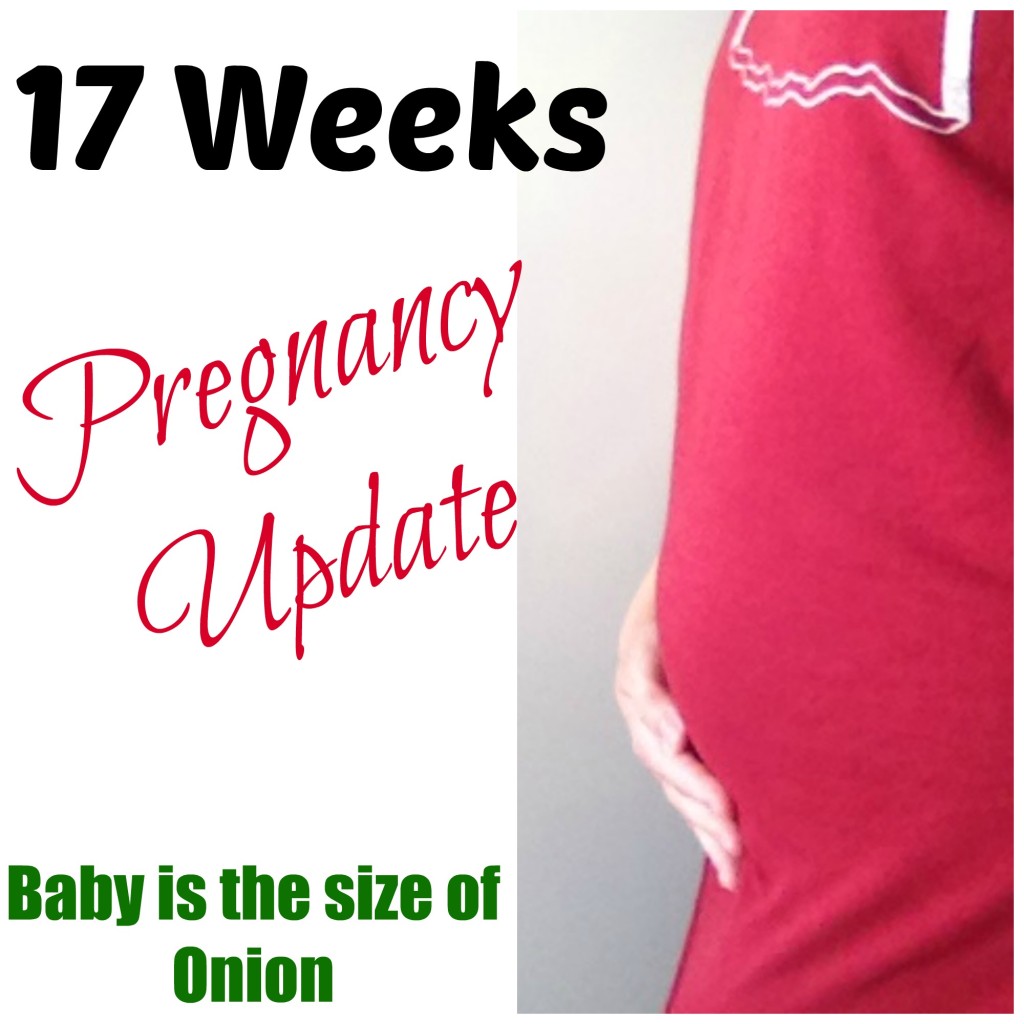 Another week has went and gone! I can't believe I am 17 weeks pregnant! Seems like it is flying by really quick. I had my dr. appointment the other day, June 8th we get to have our first ultra sound and find out the gender of the baby. I am super excited! Here is my 17 Week Pregnancy Update for all you who are following my journey!
Size of Baby: Baby is size of an onion! Baby is mastering simple reflexes like swallowing, sucking, and blinking! It says the baby may even have hiccups. How very exciting!
Movement: I have felt the baby move a few times the past few days! It is so neat! Still kinda light but so sweet to feel our baby moving around!
Body and Changes: The top part of my tummy hasn't popped out yet, so just the lower part has a bit of a bump. I am ready for the top to pop out so I look more pregnant! Gained some weight, but hopefully I don't gain too much.
Sleep: I sleep pretty good for the most part. I have had some lower back pain and hip pain so that wakes me up at times. I sleep with a pillow between my legs so that helps relieve some of the pain.
Emotions: I am doing pretty good. I tend to get emotional when I think about us bringing the baby home, and watching our sweetie grow up. Wondering what personality traits he or she will have and how our cutie will look!
Morning Sickness: Still having morning sickness! Some days it is not too bad and other days I am sick for most of the day. I am hoping this ends soon!
Cravings: Cucumbers dipped in thousand island dressing and cottage cheese with thousand island  dressing on top as well. Fruits are another thing I am loving. Plus I want cake cadbury chocolate!
What I Miss: Being able to get out and do whatever. Not feeling good or getting the aches and pains makes doing things a bit hard. I get wore out pretty quickly!
What I Am Looking Forward To: Finding out the gender! We have a sonogram June 8th, so I can't wait to find out! Plus we will get to see the baby for the first time on the sonogram which will be pretty special.
Next Doctor Appointment: June 8th, we have a sonogram and then a doctors appointment right after.