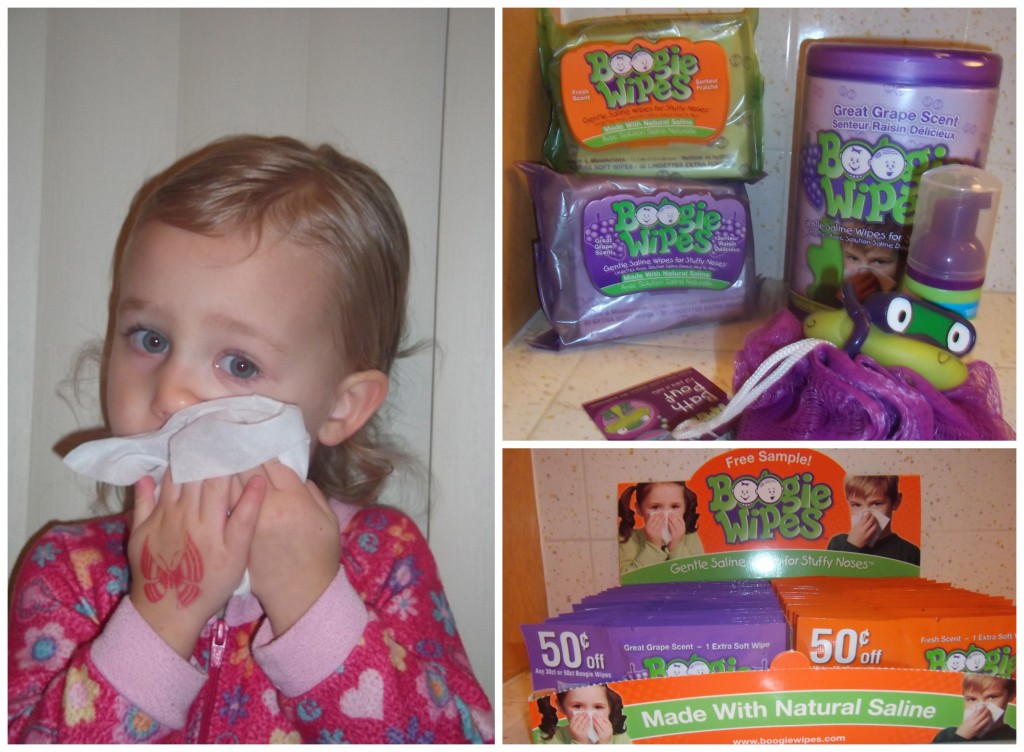 'Tis the season …..for SO many things, including germs, flu, and running noses just to say a few! This time of year is full of many fun things, as well as the sickness that is lurking around all the corners!  Both of my girls suffer from allergies, not to mention that they are at a daycare where you seem to CONSTANTLY see a runny nose or two! Wouldn't it be nice to have something SOFT that your kids would like to wipe their noses?
Well, Boogie Wipes would be a great solution for you!
Boogie Wipe Information
Boogie Wipes are made with natural saline to dissolve boogies (mucus) caused by the common cold, allergies or otherwise booger-filled kid moments.
They are available in Great Grape, Fresh Scent, Minty Menthol, and Simply Unscented.
Boogie Wipe Review Party
I was so happy to be fortunate enough to be given enough Boogie Wipes to be able to host a party to share one of my new favorite items with other people!!  We were given plenty of samples, and some fun coloring pages and tattoos for kids!  We also got some CUTE loofas for the kiddos, as well as some great sanitizer!
Not only am I a BIG fan of the boogie wipes, but my friends are now huge believers as well!!
"My daughter doesn't run away from me now when she see's me grab a boogie wipe, she loves the way the smell and feel" Said Kista!
I definitely agreed with her. My daughters know that the boogie wipes are going to rub their skin and irritate them, they love the way they feel and how they clean themselves up!
Another friend had some great thoughts as well!
Stacie said, "It is so nice to be able to have a product that is soft on all kids faces. Usually when they have the runny nose their skin is so dry, rubbed and irritated. I am happy to see that I can help my kids with their runny noses, and that I am not hurting their faces. I also really have enjoyed the smell of them!"
My Thoughts:
We love Boogie Wipes in our household for MANY reasons!  We love the way they smell!  I personally love that they are alcohol, phthalte, & Paraben free. I like that they are made with natural saline to dissolve the dried mucus. I love how they are very convenient to get to with all the variety of packages that they come in!
Purchase:
If you would like to see what all the fuss is about and give the Boogie Wipes a try, I am glad to say that you can now purchase them at Wal-Mart, Target, as well as online!
They do come in a variety of packages!  They come in 30 wipe packages!  They also come in "Boogies on the run" which is 10 individually wrapped packages.
I was not compensated to provide opinion on products, services, websites and various other topics. The views and opinions expressed on this blog are purely my own.
This post may contain an affiliate link. Please see my
Disclosure Page
for More Information.