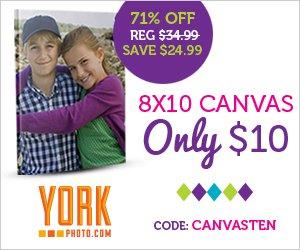 Right now at York Photo you can get a customized 8×10 canvas print for $10! That is a 71% savings! Use code: canvasten offer expires April 30th! I really like Canvas Prints, they add a bit of personality to the photo and at this price it is hard to pass up! You will have to pay for tax and such, but still a fabulous deal!
Let me know if you get one :-)! We have a few in our house and I might need to add more!
This post may contain an affiliate link. Please see my
Disclosure Page
for More Information.