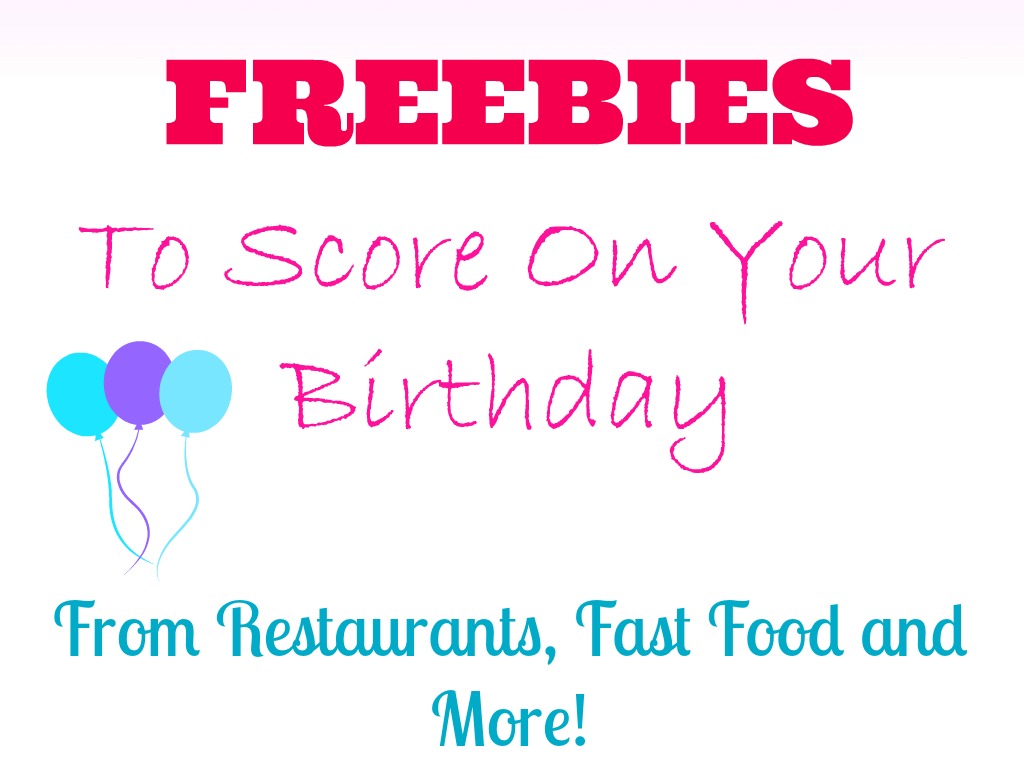 As you know I share Freebies pretty much every single day here for you guys to sign up for. I thought it was about time to do a list full of FREEBIES on Your Birthday you can Score!!! So make sure to sign up for all or a few and get pampered with awesome freebies on your special day :-)! Plus you will also get special offers and coupons throughout the year from most of these businesses! 
Restaurants, Fast Food, And More
Applebee's: You can sign up and get special offers and a sweet treat on your birthday!
IHOP: Get a Free Meal upon signing up as well as birthday and anniversary!
Buca di Beppo: Get a Free Brownie on your Birthday. Plus right now they have an offer for Free Pasta when you join their club!
Red Robin: Get a Free Burger on Your Birthday!
Burger King: For kids they can get a Free Kids Meal on Birthday.
Sonic Drive-In: Get a Free Item on your birthday!
Jack In the Box: Print Coupon for a Free Chocolate Overload Cake or Cheesecake
Black Angus Steakhouse: By joining their club you will get a Free Steak Dinner with Purchase of 2nd entree and more.
Del Taco: Get a Free Shake on your Birthday! Plus by signing up you get two free chicken taco's right now!
Famous Dave's: Join there great and receive a free gift on your birthday. They don't say what, but I am sure it will be awesome!
Firehouse Subs: When you show your ID you will get a Free Sub on your birthday. No club to sign up for.
Denny's: Here is a fun one on your birthday get a Free Grand Slam (includes two eggs, two slices of bacon, two sausage links and two pancakes).
Red Lobster: They say get a free item on your birthday, but doesn't say exactly what.
Hooters: Sign up for Hooters' eClub and get 10 free wings.
Outback Steakhouse: Get a Free Dessert on Birthday.
Captain D's Seafood Kitchen: Get Free Fish Dinner for Joining their club plus a freebie on your birthday!
A&W All American Food: Free Root Beer Float on Birthday.
UNO Chicago Grill: Get a Free meal on your birthday.
P.F. Chang's: Get a Free Dessert on Birthday.
Buffalo Wild Wings Grill & Bar: Get a Free Dessert on birthday.
Fuddruckers: get a Free Treat on your Birthday!
Dairy Queen: One of my favorites! Get a Free Blizzard on Your Birthday!
Cold Stone Creamery: Get a Free Coupon for Ice Cream on Your Birthday.
Ben & Jerry's: Join their Club and Get a Free Scoop of ice cream on your birthday!
Baskin Robbins: Free Ice Cream on your birthday!
Culver's: Free One Scoop Ice Cream
Dippin Dots: Free Dippin Dots on Birthday!
 Pinkberry: Free Yogurt after every 10 purchases, and then a Free Small Yogurt on bday!
Starbucks: Join their club and get a Free Drink on your birthday!
Dunkin' Donuts: Get a Free Medium Beverage for joining club, and another on your birthday!
Great American Cookies: Get Free Surprises on your birthday!
Krispy Kreme: Get a free Donut and small coffee or small drink.
Sprinkles: Get a Free Cookie On Your Birthday.
This post may contain an affiliate link. Please see my
Disclosure Page
for More Information.