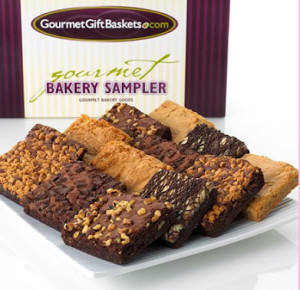 I love anything sweet, and I gotta say these brownie's look divine :-).  Mother's Day is right around the corner, and if you have a mom that has a sweet tooth, this could make a great treat!
Check out the gourmet brownie flavors packed into this impressive gift: The perfect brownies for that special recipient.
Includes 2 of Each Flavor:
· Belgian Chocolate Chunk
· White Chocolate Macadamia Blonde
· Butterscotch Blonde
· Cheesecake
· Peanut Butter
· Fudge Walnut
The basket of baked goods genius of Gourmet Gift Basket have generously offered to give one Lucky Lucy a batch of brownie goodness of their own. *Please note that when ordering brownies each package contains 2 of each flavor, in this case you will only receive one of each.
This giveaway ends 4/28, so make sure to get your entries in

This post may contain an affiliate link. Please see my
Disclosure Page
for More Information.