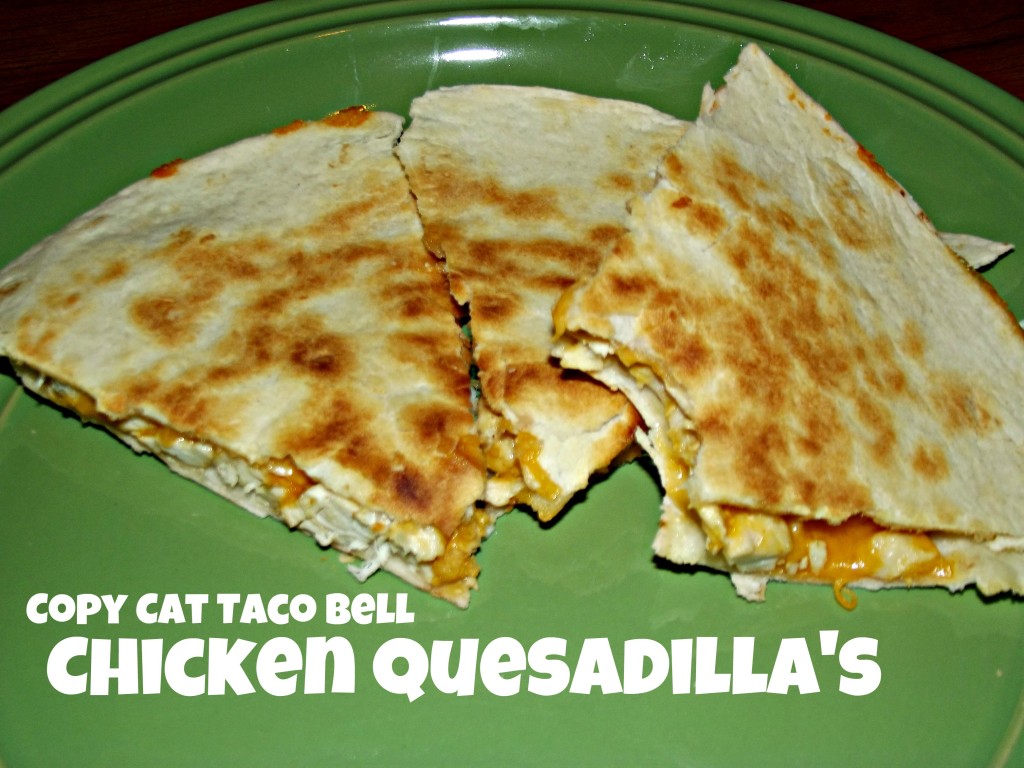 I love Taco Bell's Chicken Quesadilla's! Well I found a fabulous recipe that I thought I would share with you all! They have a little kick, but it isn't that bad, as I am not a lover of super hot things.  I found a recipe on Food.com and changed it just a little bit.
Ingredients: 
1/2 cup mayonnaise
3 tsp minced jalapenos slices
3 tsp jalapeno juice from minced jalepenos
1 tsp sugar
1 tsp cumin
1 tsp paprika
1/2 tsp cayenne pepper
1/4 tsp garlic powder
1 dash salt
– — — — — — — — — —
 4 flour tortillas
Shredded Chicken – I used 1 package of Chicken Tenderloins ( I pre-cooked the chicken and shredded it)
1 cup shredded cheddar cheese
 2 slices process American cheese
How To Make: 
1. Mix your spices and pepper juice, mayo and peppers all together! Everything above the line is used in the sauce. 
2.  Apply some sauce onto one side of the tortilla, and place it in a preheated skillet. Then apply 1 slice of the cheese, and add shredded cheese to your liking as well as the chicken.
3. Then Place the other tortilla on top, and allow it to cook for a few minutes until it is a little golden brown. Then you will flip the quesadilla over and allow it to cook on the other side.
4. Once it is done, put on plate and cut into pieces and enjoy!
As you can see this is super easy and pretty fast to make, and it makes for a delicious meal!!
This post may contain an affiliate link. Please see my
Disclosure Page
for More Information.